School Of Rock Is Being Made Into A TV Show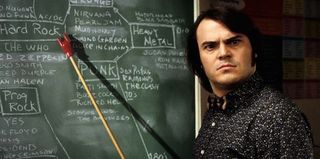 School of Rock's premise seems like an ideal set-up for a kids TV show, so it's a wonder the 2003 film wasn't adapted years ago, especially when we consider School of Rock's Miranda Cosgrove's rise to kid-fame at Nickelodeon in the years that followed the film. As it happens, it's Nickelodeon that's teaming with Paramount Television to bring School of Rock to the small screen. There's no word yet on who will star.
THR says Nickelodeon has given the School of Rock TV show a 13-episode straight-to-series order. The show will follow a similar concept as the movie, in centering on a down-on-his-luck rocker who pretends to be a substitute teacher at a fancy prep school and teaches the kids there how to rock. Jack Black starred in the film. No casting has been announced for the TV show yet, but that's coming soon and it sounds like production will begin on the series this fall, with an eye for a Spring 2015 premiere.
Jim and Steve Armogida are set to executive produce the series, along with School of Rock director Richard Linklater and producer Scott Rudin.
As mentioned, it's really a wonder this film hasn't already been adapted for a TV show or at the very least, a series of TV movies in the vein of High School Musical or Camp Rock. Factoring in the focus on kids and the emphasis on music, the story seems primed to set the stage for another crop of talented kids. Such was the case for the feature film, which brought Miranda Cosgrove to the big screen, leading to her role in Nick's Drake & Josh and a starring gig as Carly in the popular Nickelodeon series iCarly. Given Cosgrove's well-established relationship with Nickelodeon, perhaps she'll drop in at the School of Rock TV series. The same could be said for any of the other kids who starred in the original film. The series would certainly offer an opportunity for great guest spots.
While it's likely that the series will offer a group of talented kids the chance to show off their musical abilities, it'll be interesting to see who is cast in the role of Dewey Finn, the part Jack Black played in the film. Will the character mirror Black's portrayal of the goofy rocker with an infectious passion for music? Or will they go in another direction. We'll hopefully know soon enough when casting is announced on the series. In the meantime, enjoy a flashback of the final musical number in School of Rock after the jump!
Your Daily Blend of Entertainment News
Thank you for signing up to CinemaBlend. You will receive a verification email shortly.
There was a problem. Please refresh the page and try again.