Shannen Doherty Will Bring Brenda Walsh Back To Life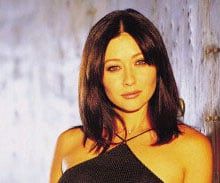 So, what's the best way to bring back a career in Hollywood? I mean a career that made you a real TV star, and people still know your name – but you haven't had a hit for a long time. I know, you're thinking Playboy. Yeah, that was my first choice too. But, Shannen Doherty thought of something better - join the remake of the show that made you a household name. That's right, Shannen Doherty WILL be starring as Brenda Walsh on the new 90210 spinoff.
The sad part about it is that she isn't the only one. As reported earlier, Jennie Garth is part of the show, as is the guy who played Nat at the Peach Pit. Earlier this month, we reported that Shannen might be returning, and that Tori Spelling would not be after all. However, an article over at People.com reports that Tori will be appearing at some point. All will reprise their roles from the good ole days, but of course they are "grown ups" now.
Yahoo News says, "In the new series, Doherty's Walsh is now a famous theater director invited back to West Beverly Hills High School to stage a musical, CW announced Saturday at a Television Critics Association meeting in, of course, Beverly Hills."
Of course, there is some concern that the bad part of the good ole days might come rushing right back. If you'll recall, Shannen didn't exactly leave the old show on good terms. The newcomers claim that they aren't worried, but you know they are. 90210 isn't the only bad experience Ms. Doherty's had, so I'm guessing she might have a bit of an anger issue. Speaking as another women with anger issues, it's okay Shannen – just take it out on a pillow instead of your co-stars!
Your Daily Blend of Entertainment News
Thank you for signing up to CinemaBlend. You will receive a verification email shortly.
There was a problem. Please refresh the page and try again.