Sherlock 2013 Comic-Con Live Blog!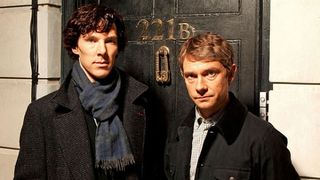 Sherlock Holmes lives … and the BBC drama based on this timeless character similarly seems as healthy, vigorous and refreshed as it's ever been.
When last we saw our beloved know-it-all (Benedict Cumberbatch), he'd faked his own death at the hands of his nemesis, Moriarty (Andrew Scott), and was watching poor Watson (Martin Freeman) mourn his former partner from a safe distance.
We're expecting to get plenty of details on the acclaimed BBC drama during the 2013 Comic-Con panel in Ballroom 20, which should begin momentarily. Stay on this page and hit refresh often, as we'll continue to update with all the Sherlock news you want to hear!
2:10 Sherlock panel (hopefully) starts in five minutes!
2:18 Plenty of people rushing to grab open seats in Ballroom 20 before this panel starts. Lots of X-Files cosplay, too. The next two hours will be an explosion of gloriously intelligent geek love.
2:20 Lights out. Here we go! Sizzle reel for PBS programs. Lots of Sherlock footage.
2:23 "I think it's time for Sherlock's first ever Comic-Con panel" shouts our moderator, an EW senior writer. He intros the panel, which consists of Steven Moffat (co-creator, executive producer and writer), Mark Gatiss (co-creator, executive producer and writer), and Sue Vertue (producer). They all seem surprised by the crowd's enthusiastic response!
2:25 Cumberbatch and Freeman can't be here. But we get a taped greeting! Freeman is in full Bilbo makeup for his recording! He's running from Peter Jackson's set to do the third Sherlock season. Cumberbatch, meanwhile, starts his intro with a confessional about playing Khan in a Star Trek sequel. Then he's told by someone off camera that it's Comic-Con ... and he starts talking about Smaug! Hilarious. He's pretending to be shocked that Comic-Con wants to hear more about a BBC show! Trust me, sir, we LOVE this program. A very, very funny recording from Cumberbatch. "We'll be back in July with season three." (Um, that's in the UK, right?)
2:28 Cumberbatch's video comes back. He says he's furious at being silenced with all of that Khan talk, and he's sick of secrets. So he's going to tell us all exactly how Sherlock faked his death. He's using stuffed animals! But the video keeps crapping out, saying "Signal lost." Hilarious! Crowd is loving this.
2:30 Moffat starts talking about the reaction to the finale, and the team realizing just how important they knew this scene was going to be to the fans. Gatiss says that they all gathered in Freeman's place to watch the finale together, and spoke about the power of the communal viewing. And he says when the episode ended, all of their phones blew up!
2:31 "Is the solution something that could be figured out from what already has been shown?" The producers kind of say, "Yes." Gatiss elaborates, "There are only so many ways that one can survive a fall off the roof. There is no black magic." Moffat says that they knew HOW Sherlock would survive before they shot it, and they've even filmed some of the scenes that come after. But Moffat says that he doesn't think the real interest is in HOW Sherlock survives ("Because that's just an answer"), but the real showstopper will be when Sherlock and Watson see each other again after the incident. That's what he really wants people to see, because the actors are fantastic together.
2:33 The trio continue to elaborate on all of the online speculation, and Moffat confirms that Moriarty IS dead, though we'll see Andrew Scott again ... as a dead body.
2:35 Moffat is having a lot of fun with the conspiracy theorists who think Moriarty survived. "He shot himself in the face! What more do you want? ... 'Oh, were you faking your death, Sherlock? So was I!' You can't have that."
2:37 They start to discuss a possible fourth season, and Moffat says that the cast is under option, but that Cumberbatch is the biggest "Yes" they need to get.
2:39 Has there ever been a discussion to do Sherlock as a feature film? Moffat's answer is great: "Well, we sort of do!" Then he goes on to reflect how lucky they are to have the two biggest UK stars at the moment. He says that if they tried to reboot Sherlock now with Cumberbatch and Freeman, they couldn't even afford to get them in the same scene.
2:43 Moffat and Gattis give three tease words for the three episodes in season three: rat, wedding, and bow. They say that the season's first episode will be based off of the classic story The Empty House, but with a different plot. Gattis says that it will be all about the impact of Sherlock's return on Watson, "and something with a rat in it."
Second episode, meanwhile, will find Watson meeting the love of his life, and Mary. And as you might have guessed, they get married. "Hot off the presses from more than 100 years ago ... we hoped you wouldn't go ahead and read the stories," Moffat says, sarcastically.
2:44 We're getting a video look at footage from the season's second episode!!
2:50 They have asked us not to discuss the content of the scene. Fine. But I can say that I have not heard a Comic-Con crowd scream and clap quite as loudly following ANY scene as they did after the Sherlock tease. Fans of this show adore Cumberbatch and Freeman, and their relationship was cheered by this crowd. The panel was as surprised as they were moved.
2:51 Does season three stop with a cliffhanger? Moffat won't say. 2:52 Is this a series you can see doing off and on again for several years? Vertue says that they'll do it as long as everyone wants to, and right now, everyone wants to. They also say that the breaks in the production schedules really allow Freeman and Cumberbatch to go off and do their big movies ("Or, in the case of Martin, one very long movie!").
2:54 Questions! Will this creative team do non-Sherlock projects? They'd love to, but they have very little time at the moment.
2:56 They all talk about the influence of Sir Arthur Conan Doyle. Not surprisingly, he's very influential. There are moments from old Doyle stories they are looking forward to doing, as opposed to full Doyle stories. "I'd love to do The Red-Headed Wig," Gatiss says. They also rave about The Speckled Band, and recommend we read that, then rent The Private Life of Sherlock Holmes. "If you like I show, you'll love that," Moffat says.
3:00 The trio talk about Cumberbatch's physical transformations for Star Trek, and whether that concerned them, But they say he has been doing that off an on, for projects like the stage version of Frankenstein.
3:02 Any love interests for Sherlock in season three? Not likely. Sex for Sherlock takes place in his brain. Romance probably is not on his agenda, which is why the Adler storyline from season two was so ... demented.
3:03 Sherlock Holmes, Batman or The Doctor? Who is the better investigator? "I don't think that crime would get solved," Moffat, "as they all had a sort of bitch fight."
3:04 Speaking of The Doctor, they are casting. Moffat is asked if there ever could be a woman Doctor Who? He pretends his microphone doesn't work.
3:08 Favorite moments from the first two seasons? Moffat singles out the last 20 minutes of the two finales: The swimming pool scene at the end of The Great Game and the wrap-up scenes of the season two finale. Gatniss chimes in and says Scandal is their best episode, the most complete work they've managed to date. Moffat agrees. They all love that episode. Verue says there are very funny deleted scenes from that episode that they'll show us ... one day. That memory cracks the panel up.
The moderator wraps things up by saying Sherlock will be on PBS Masterpiece early next year (to audible groans). and the panel is done. Very informative. Give how excited this crowd was for this panel, I can't imagine how they would have responded to Cumberbatch and Freeman. There's always next year!
Sean O'Connell is a journalist and CinemaBlend's Managing Editor. He's frequently found on Twitter at @Sean_OConnell. ReelBlend cohost. A movie junkie who's Infatuated with comic-book films. Helped get the Snyder Cut released, then wrote a book about it.
Your Daily Blend of Entertainment News
Thank you for signing up to CinemaBlend. You will receive a verification email shortly.
There was a problem. Please refresh the page and try again.