The Sherlock Special Will Be Set In The 1800s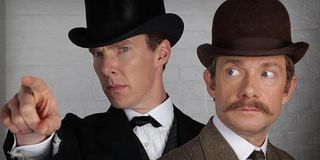 Ever since the BBC released the image of Benedict Cumberbatch and Martin Freeman as their Sherlock characters in 19th century clothing (as seen above), fans have been dying to know what the reason is for the archaic duds in the upcoming Sherlock episode. Are the titular detective and his partner John Watson at a costume party? Is this some kind of dream? Have the duo been thrown into the past by a temporal wormhole (which would make for a great Doctor Who crossover)? Well, we finally have the answer: it's an out-of-continuity story!
Co-creator Steven Moffat recently revealed that this Sherlock special will be set in Victorian London, i.e. more than one hundred years ago. Furthermore, it will not connect in any way to Series 4. Here's what Moffat had to say to EW about the upcoming Sherlock episode.
Moffat also confirmed that the special has been completed and is "very pleased" with how it turned out. No air date has been announced yet, although it is likely going to air in the UK sometime in December 2015, followed by Series 4 premiering in early 2016 (in the US, Sherlock airs on PBS). If those dates hold true, this will be the second project the Sherlock crew has put together for the winter season, the first being the seven-minute minisode posted online in late 2013 that served as a prequel to Series 3.
Talk about going full circle. Sherlock began in 2010 as a modern day re-interpretation of classic Sherlock Holmes stories, and now they've gone back to the famous detective's original time period for a special episode. While it's likely that Cumberbatch's 19th century Sherlock will have the same personality quirks as the present-day TV Sherlock, one wonders if this past incarnation will have any of the same classic tendencies as his literary counterpart, such as frequently taking heroin, obsessively studying different types of tobacco ash residue and practicing the fictional martial art of baritsu. As for Watson, I'm just glad to see Freeman sporting the mustache again; it definitely is more fashionable for the 19th century then when he grew it out after Sherlock's "death" in the present.
We'll let you know as soon as we know when the Sherlock special will air.
Connoisseur of Marvel, DC, Star Wars, John Wick, MonsterVerse and Doctor Who lore. He's aware he looks like Harry Potter and Clark Kent.
Your Daily Blend of Entertainment News
Thank you for signing up to CinemaBlend. You will receive a verification email shortly.
There was a problem. Please refresh the page and try again.