Shonda Rhimes Discusses The Two Shocking Grey's Anatomy Exits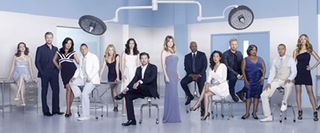 Last night's season finale of Grey's Anatomy was a doozy of an episode that left us without two of our favorite characters and feeling as if we had been punched in the stomach. If you have not caught the episode, yet, please do not continue reading, as this article is chock full of SPOILERS. For a show that I thought had pulled out every last trick in its bag, last night's finale was heartfelt and intensely dramatic. For creator and showrunner Shonda Rhimes, it was also extremely difficult to write.
The end of Season 8 saw Meredith Grey's (Ellen Pompeo) sister, Lexi (Chyler Leigh) perish in a plane crash and also saw more recent addition Dr. Teddy Altman (Kim Raver) move on to greener hospital pastures. The latter was easier to take than the former, which resulted in an emotional farewell between Lexi and her ex-boyfriend Mark (Eric Dane) and also saw Meredith completely lose it. Before the episode, Shonda Rhimes called the whole thing "unsettling," and I cannot think of a better word for what I encountered.
Early Friday, Rhimes took to Twitter to discuss the writing of the finale and to also thank audiences for sticking around to watch a show that is clearly dear to the showrunner's heart.
If last night had been the last episode of the medical drama ever, I would have taken it, but luckily, Grey's Anatomy was recently renewed for a ninth season by ABC. The show might be eking ever closer to an ending, but I was wrong about the bag of tricks I spoke of before; the show certainly does have more to bring to the table.
Your Daily Blend of Entertainment News
Thank you for signing up to CinemaBlend. You will receive a verification email shortly.
There was a problem. Please refresh the page and try again.