Should Ricky Gervais Have Gone Even Edgier At The Golden Globes?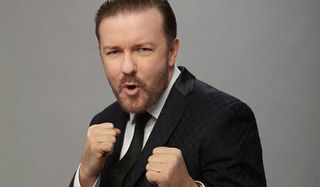 Ricky Gervais is a familiar face when it comes to the Golden Globes. He held the hosting gig for three years straight from 2010 – 2012, and while most viewers could agree that Gervais never failed to bring the laughs, he was known to push the envelope pretty far. On the whole, however, he has the perfect personality to host an awards ceremony like the Golden Globes, as he avoids coming off as too self-important. He had some great moments in his triumphant return to the hosting duties for 2016, but he wasn't as edgy as in years past.
That's not necessarily a bad thing. Ricky Gervais' opening monologue didn't have quite as much bite behind the bark as we might have expected before, but honestly, even Gervais' joke about what he does with the Golden Globe that he keeps next to his bed could have been much edgier. Back in 2010 or 2011, Ricky Gervais might have ended up referring to somebody else's… orifice.
Gervais picking on The Martian as a contender for top comedy was inevitable, but when he continued to harp on the bizarre nomination it became--pretty harmlessly--hilarious. Some of his best material came from the asides that were clearly not written for him on the teleprompter, and he brought more laughs than gasps with most of his comments early on. A personal favorite of mine was when he referred to Matt Damon as the only person to whom Ben Affleck has always been faithful, and it wouldn't have been a 2016 awards ceremony without a burn about Donald Trump.
Of course, Ricky Gervais starting off relatively lightly didn't stop him from keeping the person responsible for the bleep button at NBC on his or her toes tonight. Some of Gervais' most controversial comments from his first three turns as host featured Mel Gibson, so it was no surprise that Gervais' introduction of Gibson didn't quite make it to the airwaves uncensored. NBC did manage to bleep out Gervais' parting shot, but eagle-eyed viewers were able to catch what he said:
A fine question, Mr. Gervais. A fine question.
Ricky Gervais may have had the editors breaking out the bleep button, but there were surprisingly few lapses in audio during any of his bits. Considering the concern about his return to hosting duties as well as his assurances in his opening monologue that he was planning on being nice, he just didn't bring as much edge as we might have expected. He was still funny, but he wasn't quite as memorable as he might have been.
For a refresher on how Gervais kicked off the festivities, take a look back at his opening monologue:
So, now that all the results are in, what do you think? Should Ricky Gervais have gone edgier for the 2016 Golden Globe Awards? Let us know!
This poll is no longer available.
Resident of One Chicago, Bachelor Nation, and Cleveland. Has opinions about crossovers, Star Wars, and superheroes. Will not time travel.
Your Daily Blend of Entertainment News
Thank you for signing up to CinemaBlend. You will receive a verification email shortly.
There was a problem. Please refresh the page and try again.