The Simpsons Creator Matt Groening Finally Names The Real Springfield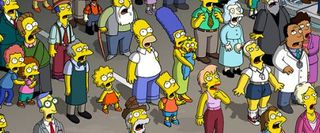 The town of Springfield, where all the action happens in The Simpsons, has come to feel indelibly real over the years, to the point that you feel like you could pop into the Kwik-E-Mart or get a job at Mr. Burns's power plant. But you'd have a hard time getting there in real life, since over its 23-year-run The Simpsons has coyly refused to reveal its location-- and creator Matt Groening has told everyone offering guesses that they're right over the years, keeping the mystery alive. Until now.
Well, kind of. In an interview in the upcoming Smithsonian Magazine, Groening reveals that the inspiration for his fictional town was in fact Springfield, Oregon, near where he grew up in Portland. The real inspiration, in fact, was the setting of the 50s TV show Father Knows Best. Here's how Groening explains it in the interview:
The interview covers a lot more terrain from there, and if you're only a casual fan of The Simpsons like I am, you might be surprised by what it contains-- I had no idea, for example, that Groening's own sisters are named Lisa and Maggie, and his father is named Homer. It's also a good read for residents of Portland, as Groening talks a lot about what it meant to grow up in the Northwest, and why he tried-- at first, at least-- to name all the characters on The Simpsons after streets in Portland.
Your Daily Blend of Entertainment News
Staff Writer at CinemaBlend