Snoop Dogg Visits The Price Is Right, Brings Home Money For Charity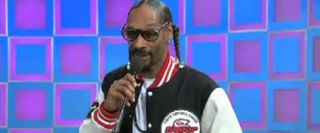 The Price is Right does charity week a little differently than most shows. Instead of having celebrities on to win big for charity, The Price is Right pairs the celebrity with the daily contestants. The contestants and the guest celebrity help each other out, hoping to score big. Whatever prize money the winners of The Price is Right takes home is matched by the show and given to whatever charity the celebrity has chosen. It's a way to do it that preserves the integrity of the game, and can still be a whole lot of fun.
First up on this year's The Price is Right charity week was Snoop Dogg, who appeared on the show only to start rapping about it. After that was out of the way, Snoop Dogg got down to the real fun. He helped multiple contestants win, earning a $72, 585 dollar victory for his charity. Perhaps the coolest thing that happened was a $10,000 guess from Snoop Dogg, who led a contestant named Darlene to a $12,500 Plinko win. Since Plinko is luck based, it was a fine guess.
Snoop Dogg's winning money will go to The Snoop Youth Football League, a charity Snoop founded to give inner-city kids between the ages of 5 and 13 an outlet to learn teamwork. According to THR, other celebrities joining the cast this week include Jenny McCarthy, Neil Patrick Harris, Chris Daughtry, and Heidi Klum. Stay tuned and stay home to see if those celebrities win big for charity, as well.
Check out Snoop as he attempts to help a contestant win a car, below.
Your Daily Blend of Entertainment News
Thank you for signing up to CinemaBlend. You will receive a verification email shortly.
There was a problem. Please refresh the page and try again.