Some Cable Channels Are Cutting Back On Commercials, Get The Details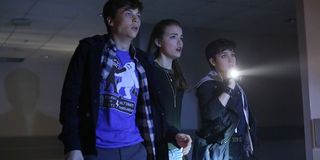 It's common knowledge that there are more commercials during TV programs than there used to be. While adding a few seconds here or there hasn't been all that noticeable, there are a few channels that are pretty bad offenders, with commercial breaks running as long as 8-10 minutes. Now one prominent TV programmer has decided to cut back on ads. Viacom, which owns TV Land, MTV, Nickelodeon and several other channels, recently announced that the various channels will be giving less commercials per hour a shot.
In recent years, Viacom has included between 17 and 18 minutes of commercials during every hour of programming. It's not uncommon for networks to include this many commercials, but over the weekend, the company announced that it will be trying to "declutter" its networks by including less commercials but providing incentives for companies to pay more per ad. Viacom hopes to cut down to 13 or 14 minutes of commercials during the hour, which should increase the viewer's experience. The markdown doesn't seem too striking at first glance, but when you are thinking about it in 30-second commercial increments, cutting 3-4 minutes is essentially the same thing as cutting 6-8 commercials, which is quite a few.
In place of the ads, Viacom CEO Philippe Dauman says that they want to decrease commercials but still keep ad revenue consistent by adding higher-priced commercial blocks. This could include more sponsored ads. The whole thing seems like a big risk, but when you consider the network average for commercials is only around 13 and a half minutes, 17-18 starts to look really high.
Variety is reporting the move is coming after several of Viacom's networks have seen decreased ratings in recent years. Networks like MTV, Comedy Central and more have dealt with less viewers watching overall, and while there may not be a determined correlation between ratings and the exact number of advertisements, people do know the networks that seem to rely on longer advertisements.
Watching an episode of a Viacom program like Lip Sync Battle or Scream, for instance, always seem to be populated by a slew of commercials, but Viacom isn't the only company known for wanting to plug more commercials into its original programs. A&E Networks are also known for having a slew of commercials, and shows like The Walking Dead and more have run long in the past, allowing networks to then use those episode extensions to create more ad revenue. It's a win-win situation for everyone but those who have to sit through the ads.
Viacom has been looking at ways to entice more viewers recently. The less commercial initiative comes just a few months after Viacom channel Nickelodeon announced a standalone streaming service, which should theoretically serve to entice new viewers who don't want to pay into traditional cable. There's a lot of ways that TV is changing, and if less commercials is one of them, I'm not complaining.
Your Daily Blend of Entertainment News
Reality TV fan with a pinch of Disney fairy dust thrown in. Theme park junkie. If you've created a rom-com I've probably watched it.
Your Daily Blend of Entertainment News
Thank you for signing up to CinemaBlend. You will receive a verification email shortly.
There was a problem. Please refresh the page and try again.