Sons Of Anarchy's Christopher Douglas Reed Wil Guest Star In Raising Hope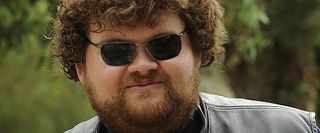 A member of SAMCRO is going to take a break from the FX drama and spend some time doing comedy instead, but apparently, he won't be taking off his leathers. Christopher Douglas Reed, who plays Filthy Phil on the biker hit Sons of Anarchy will be doing a guest appearance on Fox's comedy Raising Hope.
On Raising Hope, Reed will be playing a biker much like he does on Sons of Anarchy, which means he won't have to stray far from his usual character. THR says Reed has been cast in the role of tough-guy Liam. His character will be crossing paths with Jimmy (played by Lucas Neff) and Barney (played by Gregg Binkley) in an upcoming episode of the show's third season. I've always thought Reed had more of a teddy bear look than a tough guy feel - maybe it's all that curly hair - but he seems to have found a niche in the biker role and it should continue to work for him on Raising Hope.
Reed's short television career has included some guest appearances on other popular shows, including The Big Bang Theory and Bones. The Sons of Anarchy gig gave him his first regular series role and seems to have opened some doors for him to do further guest spots.
Raising Hope, which also stars Martha Plimpton and Cloris Leachman, leads off Fox's Tuesday prime time comedy block, followed by new additions Ben and Kate and the network's top comedy New Girl. The episode starring Reed isn't scheduled yet, but we'll keep you posted when it does.
Fox's Raising Hope airs Tuesdays at 8 p.m. ET.
Your Daily Blend of Entertainment News