Spartacus Gods Of The Arena Episode 3 Photo Preview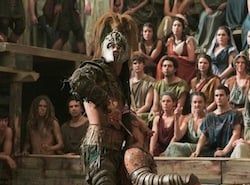 Starz hasn't posted the preview for next week's episode of Spartacus: Gods of the Arena yet*, however we do have some photos from Episode 3 to share with you and a few thoughts on last night's episode!
Before we get to the pictures, let's hear it for the episode writers, Maurissa Tancharoen and Jed Whedon! Very nice job in throwing a few twists into the arena.
In the portion of the episode shown in the video below, we witnessed a very interesting conversation between Oenomaus, Gannicus and Melitta wherein Melitta asks Gannicus what he'd do if he had to fight Oenomaus, his best friend, to the death…
Gannicus says that he'd give Oenomaus a glorious death and while he's smiling in amusement as he says it, he goes on to essentially say that because they're slaves, they're free. I took his attitude toward the prospect of facing a friend in the arena as he's essentially care free about the whole thing because they have no say in the matter anyway. Looking back to Season 1 of Blood and Sand and thinking of Varro, something tells me Spartacus would disagree.
Gannicus may have brushed off the conversation, but little did he know that he, Melitta and Oenomaus would all be put into situations that while out of their control, are unlikely to be without consequences. While Oenomaus was battling his mentor to the death, his beloved wife Militta and best friend Gannicus were tasked to play the starring roles in a live porn show for Lucretia and Batiatus' guest Varis.
While I suspect Gannicus was somewhat relieved not to have to pleasure Varis more directly, I think he would've gotten over that experience easier than he will having been made to sleep with his best friend's wife, who is also his friend. Even Lucretia seemed fully aware that the pairing could present problems. More to the point, while it seemed awkward at first, I think it's fair to say that the issue they'll have in walking away from the whole thing isn't that they had to do it, but that on some level, they might have enjoyed it. At the very least, there was a connection.
How will Gannicus and Melitta deal with the situation? Will they address it at all? Will they tell Oenomaus? Considering he was just forced to kill his Doctore and is now being made Doctore himself, he already has a lot on his plate. I can't imagine he's going to love finding out about Melitta and Gannicus. Something tells me we're going to see fewer smiles on Oenomaus' face either way.
Perhaps I was wrong to theorize an epic battle between Crixus and Gannicus. Maybe it will be Oenomaus that takes Gannicus down. Considering I'm actually starting to see some hints of redeeming qualities beyond the cast shadow of Gannicus' ego, the thought of two friends fighting like enemies sounds fairly terrible, but completely dramatic and fitting for a show like this.
Speaking of Crixus, we did get to see him go up against Gannicus and considering how tired he was from the workout he was getting before the fight, I'd say the man stands a good chance at beating Gannicus with a bit more training (and some rest beforehand).
Don't forget to tune in next Friday (10/9c on Starz) to see what happens next! Speaking of which, below are the photos we promised.
*Update! Starz released the preview video for this week's episode. We've added it below:
Kelly joined CinemaBlend as a freelance TV news writer in 2006 and went on to serve as the site's TV Editor before moving over to other roles on the site. At present, she's an Assistant Managing Editor who spends much of her time brainstorming and editing feature content on the site.
Your Daily Blend of Entertainment News
Thank you for signing up to CinemaBlend. You will receive a verification email shortly.
There was a problem. Please refresh the page and try again.