Old Spice Spokesman Isaiah Mustafa Earns Recurring Role On ABC's Charlie's Angels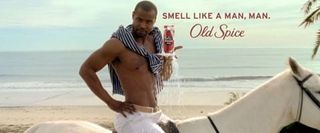 Most commercial stars get by with some sort of prop and ridiculous shtick. Progressive Insurance's Flo couples unnerving cheeriness with a hair bump. The Swiffer commercials are even more impressive, if only because its mud-wearing lead manages something difficult to pull off as a female: being creepy. Old Spice's Isaiah Mustafa has an easier task. He furrows his brow and speaks hastily of manly ideals and voila! he finds success.
But not always exactly where he hopes. After shopping around various networks, last summer Mustafa landed a talent deal with NBC. A hop, skip, and a small role on Chuck later, Mustafa may have found a better gig. TV Line is reporting the ex-NFL player and Old Spice connoisseur will have a recurring role on ABC's Charlie's Angels reboot. Mustafa will play Detective Ray Goodson, a straight and narrow law officer who used to date Angel Kate (Annie Ilonzeh).
Mustafa won't show up until around the fourth episode of the series, but executive producer Al Gough has affirmed Goodson and Angel Kate's paths will continue to cross throughout the series. If Charlie's Angels does well in the ratings, the role could be a good deal for Mustafa, who really needs more than a two-episode character arc to make or break his acting trajectory. We don't know how good Mustafa really is yet; but, if he's good enough, the writers can always give him a meatier role. If not, he can count his lucky stars he's not still stuck sitting half naked on a horse.
Your Daily Blend of Entertainment News