Stage Actor Michael Malarkey Takes Over Male Lead In CW's The Selection Pilot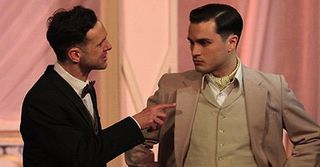 After re-casting the female lead earlier this week, the CW's revamped pilot for The Selection has now cast the new male lead as well. Having brought in newcomer Yael Grobglas for the role of America Singer, the CW has now cast another relative unknown in Michael Malarkey for the role of Prince Maxon.
The Selection is based on the book by Kiera Cass, set 300 years in the future. It has a Hunger Games-like plot in which a group of women are chosen by lottery to compete in a competition to marry the prince and become the nation's next queen. Among the women selected is working-class girl America, who finds herself struggling to balance her current situation surrounded by palace intrigue with where she comes from and the family she left behind, all while trying to keep up with the competition.
Malarkey is American born but lives in London, where he trained for and appeared on the stage, performing in The Great Gatsby and Arthur among others. He had a role in the Irish TV series Raw according to THR, but this is his first American TV appearance.
The first attempt at this pilot had some bigger names on board. Aimee Teegarden (Friday Night Lights) had the role of America, while Ethan Peck (10 Things I Hate About You) was set to play Prince Maxon. The new pilot has kept previously cast Sean Patrick Thomas and Peta Sergeant, recasting the two top roles. The move from better known stars to two unknown stars is an interesting development for the project. After all the talk about this project, I hope we eventually get to see it.
Your Daily Blend of Entertainment News