Step Up's Jenna Dewan Cast In American Horror Story For Season 2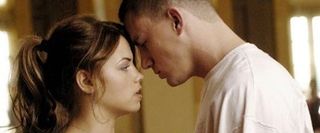 It seemed like American Horror Story's cast was already packed to capacity for its second season, but that's apparently not the case. Following the recent news of the series' numerous Emmy nominations, comes word that there's another familiar face set to join the FX horror-drama for Season 2.
Little is known about Season 2 of American Horror Story as far as specifics go. We do know (spoiler alert!) that the series will feature a new set of characters and a new setting (an institution for the criminally insane) and that a number of cast members from Season 1 will return for Season 2 in new roles (Sarah Paulson, Lily Rabe, Evan Peters, Zachary Quinto and Jessica Lange). They join newcomers James Cromwell, Joseph Fiennes, Chloe Sevigny, Lizzie Brochere, Adam Levine and Britney Oldford. And now, according to EW, Jenna Dewan is joining the cast, playing a pivotal role as the female side of the couple referred to as "the Lovers" in Season 2. Adam Levine is the other half of the duo.
In addition to being the spouse of Magic Mike and 21 Jump Street star Channing Tatum, Dewan also starred opposite the dancer/actor in Step Up, which may be her biggest claim to fame to day. She also played the role of Janie in NBC's unfortunately short-lived The Playboy Club last fall. It's exciting to learn that she'll be involved in Season 2 of AHS, and it should be very interesting to see what kind of chemistry she has with Levine, as well as how The Lovers' story fits into the series, which returns to FX this fall.