Skins Star Joins FX's American Horror Story For Season 2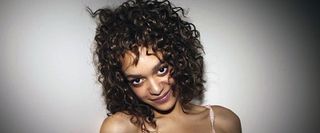 Following in the footsteps of a number of other already forgotten remakes on television, MTV's Skins didn't see the same success the British series on which it was based did across the pond. Time will tell if the series' stars will go on to find success in other roles. For Britne Oldford, that may happen on FX's American Horror Story.
(Vague spoilers about the plot of Season 2 of AHS ahead!)
As you may have heard, American Horror Story will tell a new story with new characters in Season 2. While some of the cast will be back to play new roles (among them, Jessica Lange, Zachary Quinto, Evan Peters, Sarah Paulson and Lily Rabe), the series will also bring in new actors, including Chloe Sevigny, Joseph Fiennes and James Cromwell, as well as Maroon 5's Adam Levine. And latest to join the series, according to TV Line is Skins' Britney Oldford.
Oldford played the role of the moody Cadie in MTV's Skins, the drama series remake which only lasted a season at the cable network. TV Line didn't have any details about the part she'll be playing in American Horror Story, but the site speculates that she'll be among the patients at the institution for the criminally insane in which the series' second season is set to play out. Whether or not that's the case remains to be seen, but given the nature of the show, there's a good chance this will be an interesting and potentially dark role for the actor to play.
Your Daily Blend of Entertainment News
Thank you for signing up to CinemaBlend. You will receive a verification email shortly.
There was a problem. Please refresh the page and try again.