Adam Levine In Talks For A Role On FX's American Horror Story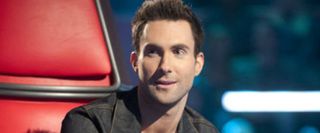 As one of the four judges on NBC's hit reality show The Voice, Adam Levine is certainly no stranger to prime time television, not to mention the countless music videos he's starred in as the lead singer of Maroon 5. They still play music videos on TV right? Either way, there's a big difference between being on television and acting on television, a difference that the singer/reality star might experience firsthand with a recurring role for Season 2 of American Horror Story.
According to EW, the FX horror anthology is looking to Levine to play half of a couple called "The Lovers" in the show's contemporary timeline set in an East Coast mental institution. And that's as specific as the article gets about the prospective part because, in typical Ryan Murphy fashion, it looks like most of the specifics of the second season of AHS are being held very close to his chest. All we know at this point is that Levine is in final negotiations for a recurring role which would also mark his acting debut. And since they aren't giving us much to work with, I'll start the speculation by suggesting that one of the two "lovers" is merely a figment of the other, who happens to be a patient at said mental institution. That theory has no factual basis.
I'm not sure how I feel about the casting, mostly because he looks like the tattooed and skinny, younger brother of Dylan McDermott. Maybe that's just me. The Maroon 5er will join a bunch of other AHS veterans like Zachary Quinto and Jessica Lange for a second season with a completely new set of scary stories. A completely new set of stories indeed, considering the majority of the leads might not coming back and those that are will be playing entirely different roles. That might a good way to keep your show fresh (and novel) but, for me, the one undeniable strength of television is the ability to develop characters and narratives over time. Oh well.
Your Daily Blend of Entertainment News