Steven Seagal Cop Series True Justice To Air On ReelzChannel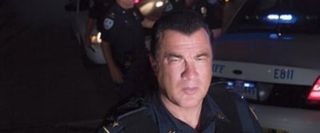 Steven Seagal may not be quite the box office action draw he was back in the '80s, but that doesn't mean he can't remake himself in a new niche. Okay, so his attempt to take the small screen by storm in A&E's Steven Seagal: Lawman may not have been entirely successful, but now there's some good news for the aging action star. Deadline is reporting that ReelzChannel has picked up the drama series True Justice, which stars Seagal as Elijah Kane, the head of a team of undercover Seattle cops who square off against "gangs, drug lords and crime syndicates."
We had previously reported about the show last year, but now it has officially been picked up by Reelz. If you haven't heard of ReelzChannel -- and let's face it, you probably haven't -- the fledgling network earned some headlines by airing the controversial Kennedys miniseries after History Channel dropped it. Seagal is exec producing True Justice along with Nicolas Chartier and Phillip B. Goldfine, and IMDb Pro also has Seagal listed as writing for the show, which should be interesting. Also listed as writing is Joe Halpin, who has written for shows such as Hawaii 5-0 and Dark Blue, and who was a co-exec producer on Steven Seagal: Lawman. True Justice will be the first scripted regular series for Reelz, which has given the show a 13-episode order. You can look for the show to begin airing in March 2012. Assuming you can find Reelz. Assuming you have Reelz. Assuming you want to.
Your Daily Blend of Entertainment News
Thank you for signing up to CinemaBlend. You will receive a verification email shortly.
There was a problem. Please refresh the page and try again.