Controversial Kennedys Miniseries Coming To DVD May 15th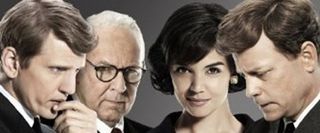 There's been no end of drama and controversy surrounding the Kennedy clan over the years, so it's only fitting that the recent miniseries about them set tongues a-wagging as well. As anyone who watched The Daily Show's hard-hitting investigatory segment knows, The Kennedys miniseries was originally due to premiere on the History Channel before the network backed out earlier this year. Eventually, the show found a new home at ReelzChannel, which left interested audience members both relieved and surprised to learn there was a thing called ReelzChannel.
Now Muse Distribution International has announced that the Kennedys miniseries will be coming to DVD on May 15th, exclusively via shoptheshows.com. The three-disc set will list for $39.95 and will include 45 minutes of bonus footage, including a "Making of The Kennedys" featurette. Even better news for those interested, The Kennedys is currently on sale for $29.99.
For those not in the know, the miniseries charted the course of several generations of the infamous Kennedy dynasty, from the 1930s up through 1968. Naturally, it covers all the expected historical moments such as the Cuban Missile Crisis, but also spends plenty of time on the relationships behind the scenes. The cast includes Greg Kinnear, Barry Pepper, Katie Holmes, and Tom Wilkinson. The series was co-written and exec produced by 24's Joel Surnow, so chances are good there's at least one scene where JFK saws off a guy's head with a hacksaw.
Your Daily Blend of Entertainment News
Thank you for signing up to CinemaBlend. You will receive a verification email shortly.
There was a problem. Please refresh the page and try again.