Steven Seagal Faces Lawsuit Over Puppy-Killing Raid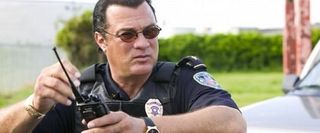 If Steven Seagal raided your ranch in a tank and killed your dog all while filming the incident for his reality show, you would probably be pretty mad, and an Arizona man is suing the actor for just that. Apparently, Seagal showed up to raid the man's property in an alleged cockfighting ring bust that left major property damage as well as one dog and a whole lot of roosters dead.
Seagal, who is a reserve deputy Sherriff for Maricopa County, showed up at the ranch home of Jesus Sanchez Llovera back on March 9th in full tactical gear and riding in a tank, backed by the Maricopa County Tactical Unit. The raid was based on the belief that Llovera was raising roosters as part of an illegal cockfighting ring. Cameras followed the entire incident as part of Seagal's reality series Steven Seagal Lawman on A&E. The raid left property damage and resulted in the death of over a hundred roosters, as well as a puppy, which was shot. Today TMZ reported that Llovera is slapping Seagal and the Sherrif with a lawsuit.
Llovera is seeking $100,000 in damages and also wants a letter of apology written to his children, who lost their pet (the dog, not the roosters) in the raid. Llovera insists that he raises roosters "for show" and is not involved in any sort of cockfighting and that the entire raid was wrongful and unfounded. It seems Seagal, who has been a reserve deputy since the 80's, ran his tank up against the wrong man.
Currently the case hasn't gone as far as a suit, but a claim has been served against Seagal and Maricopa Sheriff Joe Arpaio. Plenty of nastiness has gone down on reality TV, but perhaps the killing of the family dog could be going a little too far. Maybe Steven Seagal should go back to making bad martial arts movies and leave the law alone?
Your Daily Blend of Entertainment News