Stitchers Renewed For Season 2 By ABC Family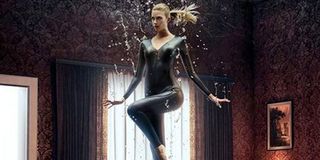 It appears that ABC Family has opted to continue its current experimental deviation from the teen dramas traditionally in its lineup. In a bit of news that should come as a relief to the fledgling fanbase of the channel's science fiction drama, Stitchers, the network has been announced that the show will be sticking around for a second season.
ABC Family officially announced the impending follow-up season of Stitchers as the currently running debut season nears an end. The fantastical crime-solving procedural has averaged a 0.38 rating in its targeted 19-49 demographic. While the numbers are not great by most network standards, they have nevertheless made the show the #1 scripted cable series in its Tuesday 9 p.m. timeslot. Consequently, the show seems to be on track to be a centerpiece of sorts for the channel's apparent aspirations towards more mature material. According to ABC Family's Executive Vice President, Karey Burke:
The show stars up-and-coming talent in Emma Ishta, who plays Kristen Clark, a young woman with special psychic abilities allowing her to enter the minds of other people--specifically the recently deceased. With her talent catching the attention of a secret government task force, Kristen is recruited to use her amazing abilities to tackle seemingly unsolvable murders by getting the answers directly from the source: inside heads of the dead. The brain-invading beauty is joined by super-smart colleagues such as neuroscientist, Cameron Goodkin (Kyle Harris), Linus Ahluwalia (Ritesh Rajan) and her bureaucratic overseer, Maggie Baptiste (Salli Richardson-Whitfield) who help guide Kristen during the often-tumultuous process. Additionally, she is also joined by her roommate/computer whiz, Camille Engelson, who is played by perennial geek/favorite former Warehouse 13 star, Allison Scagliotti.
Reception for the show has been mixed, which is especially understandable given the derivative nature of its premise, which seems to hearken back to the storyline from the 2011 Jake Gyllenhaal sci-fi drama, Source Code. Yet, while the show focuses on a character plagued by similar abilities who is put into a roughly equivalent government type program, the interpersonal dynamic is clearly attempting to tailor itself towards the older-growing ABC Family teen-drama consumers who, these days, are looking for more compelling circumstances for their characters. Plus, taking Karey Burke's aforementioned quote into consideration, the show does seem to be an appropriate platform to showcase strong female protagonists. In that sense, the renewal may also indicate the channel's confidence in Stitchers filling this apparent thematic gap in the industry.
Stitchers airs on ABC Family at Tuesdays 9 p.m. ET, as it makes the final few laps towards a season finale on August 4. Thankfully for its fans, that culminating episode will not be the series' last. However, at the moment, no details have been revealed regarding when Season 2 will begin airing.
Your Daily Blend of Entertainment News
Thank you for signing up to CinemaBlend. You will receive a verification email shortly.
There was a problem. Please refresh the page and try again.