The Strain Season 2, Episode 10 Watch: The Shot That Changed Everything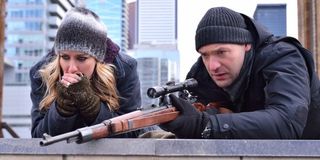 Last week on The Strain, the battle to end all battles occurred in Red Hook. As the sun rose, the citizens and the New York Safe Street Initiative stood among the corpses of their foes, ready for the dawn of a new day. It looks like humanity has a fighting chance, and it's all thanks to Justine Ferraldo and our usual gang of Strigoi exterminators. If only Eldritch Palmer were as easy to take down, for Eph Goodweather took his shot this week, and he came up short.
"God I wish I'd succeeded in killing you. The world would thank me."
A couple weeks ago, Eph swore that he'd kill Eldritch Palmer. To a certain degree, his attempt was successful, as his shot did manage to hit someone. Unfortunately for him, Palmer wasn't the victim…it was his girlfriend, Coco Marchand. Mortally wounded, Ms. Marchand ended up hanging on by a thread, with her life in the balance. After all of his careful planning and surveillance, the good doctor only managed to hurt Palmer's emotions; and make him desperate enough to turn to The Master's help once more.
Much like Palmer's rejuvenation towards the end of Season 1, Coco was "blessed" with The Master's blood - sans worms - and brought back into the color of health. All at once, Palmer confessed to her that he was working with The Master as his "partner," and that he too had been saved by his dark gift. This was a huge jump from the beginning of the episode, when Palmer was at Coco's doorstep, begging her to take him back. While Palmer thinks what he's done was out of love, Coco might see it a bit differently - which is the sort of conflict picking up steam between another pair of warring factions.
"Across the river in Brooklyn, the good citizens of Red Hook rose up and fought shoulder to shoulder with my men, they paid with their blood. Something tells me the Upper East Side would prefer to pay with their wallets."
Much to her chagrin, Councilwoman Justine Ferraldo's Safe Street Initiative is now coming to the Upper East Side, per Mayor Lyle's request. In true Ferraldo fashion, she's complied with her political master's demands, but at a cost. For just 1% of their real estate value, Ferraldo and her crew will clean out the Upper East Side for all of the rich donors' pleasure. Naturally, this is something that they balk at, which in turn caused Mayor Lyle to turn to Eldritch Palmer for help. Of course, before any "help" could be given, Eph's shot found its way into Ms. Marchand's shoulder, scuttling the meeting and causing Eph and Dutch to be apprehended by the NYPD.
If the rest of the NYPD is as cooperative against the good doctor as the detectives that apprehended him and his assistant, then Ferraldo might want to watch her back. In true cop-movie fashion, the cops escorted Dutch out of the cell and allowed Eph a fantastic one-on-one with Palmer. Eph gets to be a badass prisoner, Palmer gets to be the cold-calculating psychopath; it's the stuff good drama is made of. However, just to get the point across, a roving gang of Strigoi take out all but one of the cops in the station, leaving Eph to be rescued by Nora and Fet, both of whom broke away from Professor Setrakian to bail him out.
"Nothing is more important than The Lumen! We must find it before someone else does!"
Following up on the lead from a couple of weeks ago, in which Rudyard Fonescu was named the current possessor of the Occido Lumen, Setrakian, Nora and Eph found four entries for "R. Fonescu" in the phone book. After following up on all four, and encountering a good amount of Strigoi along the way, the good Professor finally found the Lumen!
Only, he found himself knocked out by the butt of a pistol before he could revel in his victory. Not only that, but as the episode ended, we found Dutch in the worst place possible - Eichorst's play room/feeding chamber. Hearing the familiar clank of the chain apparatus that he uses to secure his victims, we closed out this week with Dutch looking primed with fear for her first time under Eichorst's "care."
?Rating:
?
?
"The Assassin" may have missed his mark, but the episode was a satisfying continuation of last week's momentum. With only three episodes left in Season 2, The Strain will hopefully make a long drive straight through to the finish. Next week, our heroes are in peril as they face down a "Dead End." We'll see you here for more fun next time, but if you're up to take another shot, you can join us for this week's Nitpicks, Notes, and Nods.
Nitpicks
Nothing from the books this week, though the whole quest to find the Lumen never took this turn. So it looks like the Sotheby's auction might have been replaced after all.
You would have thought that if Fonescu had "an apartment above his place of business," that the team would have researched what the name of his business was. Town Hall and the Hall Of Records must still be open, or easily accessible through the chaos.
Notes
Dubstep vampires? I knew there was a reason I loved this show, besides the intriguing drama.
Eph and Palmer's confrontation tonight was pretty damned amazing. This show excels at one-on-one confrontation, as well as enhancing side characters from the book. The enrichment of Eldritch Palmer is astounding.
Also, a lot of credit goes to Jonathan Hyde, proving why he's still one of the best character actors on the scene.
Oh Fet… your one liners make me feel right at home, man.
Nods
If the rich knew what was in store, particularly in the prologue to The Night Eternal, they'd probably cough up that 1% more readily than they would while oblivious to the truth.
I have a really nagging feeling that Ferraldo is going to meet an untimely end at some point, possibly at the end of this season or during the next. Palmer is in a vulnerable position right now that he'd strike out in such a way.
Reading Assignment: Nothing this week.
Senior Movies Contributor
CinemaBlend's James Bond (expert). Also versed in Large Scale Aggressors, time travel, and Guillermo del Toro. He fights for The User.
Your Daily Blend of Entertainment News
Thank you for signing up to CinemaBlend. You will receive a verification email shortly.
There was a problem. Please refresh the page and try again.