The Strain Season 2, Episode 9 Watch: The Series' Best Episode Yet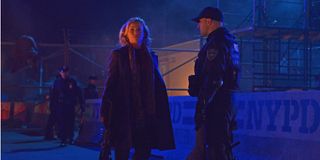 Last week on The Strain, Kelly got pretty damned close to taking Zach back in her clutches, and in the process. started to lose her shit hardcore. With Eldritch Palmer and Abraham Setrakian both making a play for the Occido Lumen, and both getting pretty close without the vampires knowing it, it felt like a lot of the pressure from this season was coming to a head. Tonight, it did, and The Battle Of Red Hook did not fail to live up to its name – making itself the best episode of Season 2, as well as the series on the whole.
"It is time for them to see our true power."
Eichorst and his undead army made a bold play to quash the efforts of Justine Ferraldo's Safe Street Initiative to cleanse the city of vampire scum. Using the old "bribe a human to get us across the water" gambit that started this whole mess, a group of 20 bloodsuckers – including Eichorst and Kelly Goodweather - were brought over to Red Hook via the docks. In addition to sneaking behind enemy lines, they also cut the power supply to that section of Brooklyn, thus knocking out the UV lights that allow Ferraldo's men to detect who exactly is a vampire.
Humanity wasn't completely unprepared though, as Kelly's previous incursion has Setrakian and company on high alert. If it wasn't for her failed attempt at taking Zach, the group wouldn't have left to warn Justine and her task force about the possibility of a coming invasion. While the battle for Red Hook did have its fair share of casualties, it would have been a total shit show without warning – as well as Councilwoman Ferraldo's rallying the citizens of Red Hook into the fight. If there's enough of a New York left come next election cycle, or if she isn't assassinated by some Stoneheart goon, then she's pretty much got carte blanche for whatever office she sees fit.
"There are no quitters here, Doc."
It wasn't all warfare and gunshots this week though, as the more personal angle did take its place amidst the madness. Dutch's struggle to decide whether she should follow her heart to Fet's open arms or Nikki's madness is still raging, and for once it didn't feel painful to watch. Dutch is understanding herself, as well as her draw to Nikki a lot better than she has previously, and Fet is becoming more even-tempered in his longing for the woman he's become so deeply attached to. Though that's not enough to stop the showrunners from letting Fet and Nora get a couple moments in that tease a possible connection. That is, if Nora manages to survive.
As she's starting to question Eph at an increasing rate, Nora has also made herself a bit of a target for Kelly Goodweather, as she's become a sort of surrogate mother for Zach. Which means that when Kelly sees Zach running to Nora during the human efforts to restore power to Red Hook, she obviously goes out of her mind. With young Zach at a very crucial period of believing whether Nora or Kelly is the one to trust, this obviously isn't the best choice of action if she wants to win her son over. However, with the increasingly erratic behavior that's being shown on his father's side, Zach might have a harder decision than he thought.
"Remaining human at all costs is very important, even when dealing with murderers."
So Eph tried to take down Eichorst tonight, and while it wasn't a success, it did lead to an intense cap to an already action-packed episode. Herr Eichorst, as usual, played with his food a bit too much before going in for the kill; and for a moment it looked like had Fet on the ropes. But thanks to a Setrakian sneak attack, Eichorst was wounded and ran off with his stinger between his legs. It was a good fight, but thankfully the good doctor wasn't too boozed out of his mind, and had a good second to back him up. He might want to work on that shot before taking on Eldritch Palmer though.
?Rating:
?
?
By the time morning came, Red Hook was saved and for a moment, everyone felt good about themselves. "The Battle For Red Hook" actually lets you believe in that feeling, if you want to. Of course, there are four episodes left in Season 2 of The Strain, and considering next week's is entitled "The Assassin," either Palmer or Ferraldo might be in the crosshairs, which would definitely ruffle some feathers in New York. Come back to us next week, dear ones, and we'll have a chat about Episode 10 at the usual time and place. Of course, if your thirst runs deeper, then might we suggest a quick trip to this week's Nitpicks, Notes, and Nods.
Nitpicks
*This whole episode is off book, and there's not a damned thing wrong with that! A centerpiece such as the Battle For Red Hook could have helped The Fall elevate itself a bit from the standard "middle installment" template. (Which isn't to say the book isn't aces. It's just that this episode was THAT good.)
Notes
*The revamped credits sequence is not only a good history refresher for the past year or so of the show, but it's well-animated. Definitely more exciting than the usual sequence, and it helps sell tonight's episode as a cinematic experience. Something tells me this is a special flourish to the episode, much like the season premiere credits showing the eclipse, so enjoy it while you can.
*Richard Sammel is MVP again tonight, as he doesn't chew scenery so much as he politely eats as much as he can and doesn't engorge himself too much. I'm starting to think we need a night in the life of the vampires as an upcoming episode.
*For as much as the show has lagged in pace the last couple of episodes, the slow build actually feels like it's paid off tonight. The only thing that could have made this episode better is if it was a feature-length brawl, with Gus and Quinlan cementing their partnership over a heap of Strigoi corpses.
Nods
*Eichorst and Setrakian's little scuffle this week is reminiscent of a scene towards the end of The Fall where the two face off in more dire circumstances. One could assume this is a set up to that event, and a damned fine one at that.
*If the series sticks to the books as well as it has so far, this won't be the only time you'll see vampires in a power plant, as The Fall drops a huge set piece at a nuclear power plant.
Reading Assignment: None, but feel free to rewatch the episode with a drink and a lot of cheering.
Your Daily Blend of Entertainment News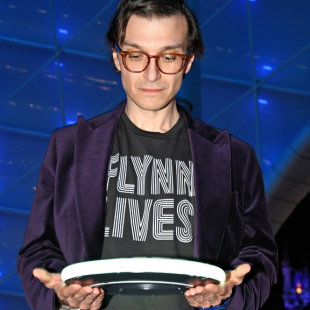 Senior Movies Contributor
CinemaBlend's James Bond (expert). Also versed in Large Scale Aggressors, time travel, and Guillermo del Toro. He fights for The User.