The Strain Season 2, Episode 4 Watch: The Past Is Prelude To The Present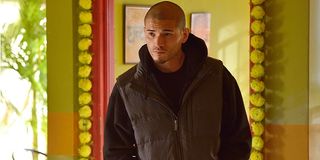 Last week on The Strain, humanity launched its first strike in the war against the impending fall of society. It looked like Eph and Nora were pleased with their newly formed pathogen's efficacy, and they were poised to release their bug into the open. Unfortunately, just as science was celebrating its day, Gus and the vampire SWAT team ran into a huge stumbling block… namely a bunch of UV radiation that fried the undead warriors, leaving Gus alone. If victory is to be assured, humanity is going to need some luck and/or divine intervention, which leads us to this week's episode "The Silver Angel."
"I've seen a lot of strange things since I've hooked up with you two, and I've done a lot of strange things. This right here? Hands down, it's the strangest."
So the vampire plague does indeed work, as Eph, Nora, and Fet released fully a infected Mr. McGeever into the wild. Like a good member of a hive mind, he retreated into the psychiatric hospital where his son was being treated. The plague spread like wildfire (which is good), but of course The Master had all infected vamps throw themselves off of the hospital roof (which is not so good). While The Master can run from selected infection, mass dispersal should be something a bit more powerful, which is what Eph has decided will be the next step.
On the firepower end of things, Fet finally blew the Carroll St. subway tunnel. This should hopefully shore up the Red Hook defense that Councilwoman Ferraldo and her new task force are setting up in the area, as part of The Mayor's carte blanche approach to her tactics. But since he was outside after curfew, and the task force doesn't respond well to that sort of behavior, it looks like Fet's been captured and might be meeting the good Councilwoman in the next couple of weeks. Here's hoping that meeting happens sooner than later, otherwise the more militant end of the plan to save humanity will suffer a massive setback.
"Mr. Eldritch Palmer. You are searching for the secrets of eternity. But the answers you have been looking for are not here. Would you like to know more?"
Abraham Setrakian had an eventful week on The Strain, both in the present and his past. Modern day Abraham found himself teaming with Dutch to visit Mr. Fitzwilliam and his brother. With Dutch's analysis that the former bodyguard of Eldritch Palmer would be a key ally. Meanwhile, in another young Setrakian flashback, we see Palmer and the professor on a mission to find the Occido Lumen together. We also get to see the moment where their partnership pivots into a rivalry, as Eichorst finds the infirmed young Palmer and promises him all that he's ever wanted.
Modern day Palmer is pretty busy himself, as he's made Mr. Fitzwilliam's potential teaming with Setrakian easier. If you thought Eldritch Palmer had a stranglehold on the financial markets before the crisis, he now has the city in his wallet for the foreseeable future - all thanks to a random vampire attack outside of a meeting he had. With all of New York's Federal Reserve titans, minus Palmer, vamped; one could say that it was a coincidence. But when Bolivar is leading the charge, it looks a little less random in the offing.
"Your mother's disappointment is still here. The torment you put her through in life, it lives along with her dumb, animal love for her criminal son."
An important recurring theme of tonight's episode was parenting and mentorship, as we see both Gus and Zach mourning their dear moms. Gus still hasn't had the heart to release his mother from the vampirism that overtook her in Season 1. With the vampire SWAT team dead, all he has is himself, though it looks like he's got a new mentor in "The Silver Angel," a Mexican B-movie star that made films in Gus's childhood. For now though, Gus is adrift, and that could be a dangerous thing if he doesn't look for the straight and narrow.
The big turn this week is the story of Kelly and Zach, as Zach continues to miss his mother enough that he flashed back to her at the batting cages. No matter what Eph tries to do, Zach still misses his mother and the feeling is mutual. We end this week with Kelly searching for Zach, and her army of Feeler children finding his scent at the batting cages. Mommy's coming for you, Zach, and when she does, she's going to stop at nothing to bring you home.
?Rating:
?
?
"The Silver Angel" is The Strain back in form when it comes to its characters. The dialogue was snappy, and there were some really good character moments to come out of this installment. The first act of Season 2 has wrapped, and act two looks set to bring some dark days for all involved. We'll see you again next week, when The Strain spreads some Sunday terror at its usual time and place! But if you're thirsty for some more academic material, then continue on for this week's Nitpicks, Notes, and Nods!
Nitpicks
Zach wasn't pegged as a Bolivar fan in the books, but it does set up some interesting implications for the events in The Night Eternal.
Gus releases his mom in The Strain.
Notes
This week marks the return of The Strain trilogy's co-author Chuck Hogan to the writing room, as well as Guillermo Del Toro's directorial return in the "Angel vs. The Vampires" preamble for this week's show.
The Occido Lumen looks to be a big focus in this season's events, so this makes me think we'll see a key sequence involving the Lumen going up for auction towards the end of the season.
Nods
The Financial Reserve crisis helps Palmer's end game along rather well, with world markets in freefall.
Senior Movies Contributor
CinemaBlend's James Bond (expert). Also versed in Large Scale Aggressors, time travel, and Guillermo del Toro. He fights for The User.
Your Daily Blend of Entertainment News
Thank you for signing up to CinemaBlend. You will receive a verification email shortly.
There was a problem. Please refresh the page and try again.