Suite Life's Brenda Song Headed To New Girl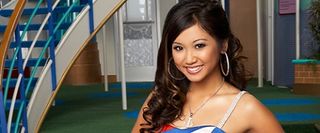 Disney Channel star Brenda Song is set to join the cast of a primetime comedy. The young actress who is best known for The Suite Life of Zack & Cody along with several other Disney Channel projects has landed a recurring role on Fox's hit New Girl.
Song will play Daisy according to EW, a competitive and very intense woman who can't stand quitters. She witnesses a failed attempt by Winston (Lamorne Morris) to chat up fellow newcomer to the series Holly (Brooklyn Decker) in a bar, and develops an interest in him. Decker is only on for a one-episode run, so it seems her appearance will set things up for Song's longer role on the show, providing her introduction to Winston.
Brenda Song has been recently making an effort to leave her Disney Channel roots behind. She popped up on Key & Peele and also did a multiple-eisode arc on Scandal. For those who know her from her Suite Life role as rich snob London Tipton (a role she played in multiple crossover appearances on other Disney Channel shows including Hannah Montana) it might be a little difficult to see her as anyone else, but she's making a good effort to distance herself. In addition to her TV roles, Song has a movie set to come out next year, Boogie Town , where she'll star alongside The Vampire Diaries' Kat Graham. She also appeared in The Social Network to add to her big screen cred.
Song's introduction on New Girl will come sometime in 2013, after the midseason break. New Girl has a few more episodes left before the break, and airs Tuesdays on Fox at 9 p.m. ET.
Your Daily Blend of Entertainment News
Thank you for signing up to CinemaBlend. You will receive a verification email shortly.
There was a problem. Please refresh the page and try again.