Sullivan & Son Has Been Cancelled By TBS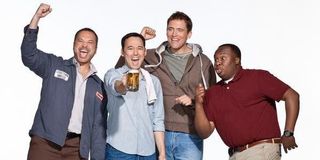 It looks like TBS is continuing to clean house as they have axed the Vince Vaughn-produced series Sullivan & Son after three seasons on the air. The TBS sitcom originally premiered in 2012 and followed ex-corporate attorney Steve Sullivan (comic Steve Byrne) who left his NYC practice to go back to his roots, working at his father's neighborhood bar in Pittsburgh. Lets face it folks, bar humor pretty much began and ended with Cheers and although it was a valiant effort, Sullivan & Son never quite captured the targeted demographic that the show was looking for since 2012.
In the end it was all about the ratings for Sullivan & Son. The show had been on the steady decline since its debut in 2012. (Bad word of mouth on Internet message boards certainly did not help in this age of social media and instant feedback). There is no word from Vaugh's camp yet about the demise of his brainchild sitcom but you have to look at the ratings. As far as the numbers for the sitcom went, Sullivan & Son was fairly strong out of the gate but by season two fell slightly to 1.99 million and a 0.8 in the demo. The third season, which finished airing on September 9th of this year, dropped more than 20% to 1.58 million and a 0.6 demo rating. Translation: it was only a matter of time before the comedy got its walking papers.
Despite having a strong supporting cast that included a few TV sitcoms staples like Christine Ebersole, Brian Doyle-Murray, Jodi Long, Valerie Azlynn, Vivian Bang, Owen Benjamin, Roy Wood Jr., Ahmed Ahmed, and Dan Lauria, fans never really seemed to take to the whole "quit your corporate lawyer job to work at a bar" narrative. Plus, it seems that the suits at Turner Networks are cutting the red tape when it comes to underperforming original sitcoms and dramas. Just recently, Men at Work was cancelled, and the displaced Courtney Cox starrer, Cougartown, was given its walking papers. After the numbers were crunched, there was just no way that Sullivan & Son could survive in the wilds of the cable sitcom world.
Sister network TNT has recently given Dallas, Franklin & Bash and Perception walking papers in recent weeks, making it look like Turner is ready to instill a "clean slate" protocol in order to take on fresh and edgy material rather than the canned stuff. Per Deadline, the only returning sitcom to the fray is Ground Floor, which is returning in 2015. TBS has plans to bring new shows aboard in 2015, including Buzzy's, Angie Tribeca and Your Family Or Mine. Truth is there has not been that many runaway hits on the Turner networks in the sitcom realm, but you gotta hand it to them for trying.
Your Daily Blend of Entertainment News
Your Daily Blend of Entertainment News
Thank you for signing up to CinemaBlend. You will receive a verification email shortly.
There was a problem. Please refresh the page and try again.