Sullivan & Son Renewed For Season 2, TBS Orders Another Round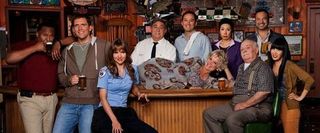 TBS' new comedy Sullivan & Son is just a couple of episodes away from wrapping up its first season at the network. While it may be almost last call for the season, those who were hoping the series would return for a second season will be happy to know that the cable channel has given the official order for Season 2.
Sullivan & Son is set in a bar and follows former corporate attorney Steve Byrne as he returns to Pittsburgh to take over his parents' bar. It's a multi-camera comedy, and its bar setting and ensemble cast makes it feel a bit like a nod to Cheers, though the story and characters are different.
Among the cast is Christine Ebersole, Brian Doyle-Murray, Jodi Long, Valerie Azlynn, Vivian Bang, Owen Benjamin and Dan Lauria. The series is run by Rob Long, with Vince Vaughn (The Wedding Crashers) and Peter Billingsley (director of Couple's Retreat, executive producer of Iron Man, Ralphie from A Christmas Story) executive producing.
TBS announced this week that they've given the series an order for a second season. And given that the comedy has been averaging more than 2.5 million viewers in Season 1, this news isn't especially surprising, but it's certainly good news for those who've been enjoying the series. The series has two more episodes to go in its first season, which airs Thursdays at 10/9c. And now fans can rest assured that the series will be back for Season 2 next year.
Your Daily Blend of Entertainment News
Thank you for signing up to CinemaBlend. You will receive a verification email shortly.
There was a problem. Please refresh the page and try again.