Supernatural Season 10, Episode 7 Watch: Crowley's Mother is a Serious Witch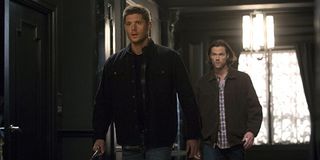 Supernatural is getting a bit slow in its old age.
It might have taken seven episodes, but we finally got the setup for Season 10 that usually happens in the first couple episodes of a new season. I enjoyed Demon Dean as much as anyone and was sad to see that storyline end prematurely. I figured we'd see this season's big storylines begin to unspool after Dean was cured in the third episode. Instead, we took a three-episode detour through a charming 200th episode celebration and two other forgettable hours. In "Girls, Girls, Girls," we're finally given a proper introduction to this season's big bad – an Irish witch named Rowena – with even more closure thrown in for good measure. Let's dig into the machine now that it's finally humming again.
Did anyone else anticipate that big reveal at the end before Crowley opened his mouth? His expression gave it away. Throw in their shared heritage and of course Rowena was Crowley's mother. Her intimate knowledge of demons and how to kill them pointed to a connection like this one. What's surprising is that Rowena didn't know Crowley was her son. I don't recall the details of Crowley's life before being a demon, aside from the random appearance of his son last season. We might already be privy to the story of how Crowley became a demon; I can't remember that far back. I'm guessing we'll get more details on Crowley's backstory through Rowena in the coming weeks as the mother and son catch up.
I had my doubts about Rowena as the big bad for this season at the beginning of this episode. She's played by Ruth Connell with a wicked sense of humor that came dangerously close to over-the-top at times. What sold me was her ruthlessness in sacrificing people for her own good, and how deranged she was in that final scene. The way she needled Crowley during his stunned silence was delicious. I need to see more of her to make a final judgment, but I like where things are headed now that we know she's got a connection to the best villain in Supernatural history (or, if you prefer, anti-hero).
Cole made a welcome return this hour as his quest for revenge against Dean came to an end. We were treated to a nice bare-knuckle brawl between Dean and Cole before we got there, which caused me to note that I wish we had more of these fights on Supernatural. They're always done really well. It was nice to see Dean kick a little ass without Ruby's knife or an angel blade. Sometimes we forget the Winchesters are skilled hand-to-hand combatants since they get tossed around so much. (Side note: anyone else thinking Dean got a little help from the Mark of Cain during that fight?) I loved the conversation between Dean and Cole almost as much as I enjoyed their fisticuffs. Contrary to what he told Sam, I think Dean really believes he's beyond saving. Regardless, Cole heard what he needed to hear and returned home to his family. Or did he? His story feels unfinished to me. I think he'll be back.
Hannah's sudden departure was unexpected in a good way. When her vessel Caroline's husband returned, Hannah couldn't deprive her host of the life she longed to live. There was a guilt there that Castiel has managed to keep under wraps ever since Jimmy Novak willingly gave up his life to be Castiel's permanent vessel. Part of me thought Castiel would stop Hannah from abandoning her body for the sake of the mission. I'm glad he didn't. Although they seemed to be growing closer, it was a great twist that shakes up the normal beats of this show. I expected Hannah to stay because Supernatural has trained my brain to anticipate those kinds of story developments. It's nice to be surprised.
Even if Rowena is a standout villain, I don't see the seismic threat this season that the brothers have battled in the past. This conflict feels small-scale and personal, something this show hasn't done over the course of a season since Sam tried and failed to save Dean's soul back in Season 3. I'm not saying this kind of scaled-back arc can't work over 22 episodes. I just have my doubts after watching this show go for broke so many times throughout its run. Then again, maybe a change like that is needed after 200 episodes. Shying away from something like the Apocalypse sure would help the budget!
(Second side note: Impala67. Need I say more?)
Line of the week
"Oh, you know, just these alert thingies." – Dean
"For what?" – Sam
"I dunno, monster stuff." – Dean
Next week on Supernatural
The boys call in some serious backup.
Your Daily Blend of Entertainment News
Thank you for signing up to CinemaBlend. You will receive a verification email shortly.
There was a problem. Please refresh the page and try again.