Surprise! CBS Picks Up The Mentalist, Cancels The Crazy Ones And 4 Others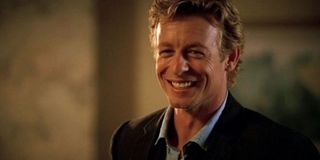 The Mentalist or The Good Wife? That's the way most network experts pitched CBS' Sunday night dilemma. They could either renew the well-liked, moderately-rated crime procedural that does very well in syndication and overseas or they could renew the award-winning, moderately-rated legal drama that's routinely cited as one of the best programs on TV. It was supposedly one or the other. So, when The Good Wife was officially picked up, fans of Patrick Jane and his hyper-intelligent and zany shenanigans expected the worst. It turns out those fears were needless. In a surprise move, CBS decided to officially pick up The Mentalist for another season this morning, just days ahead of its upfront presentation to advertisers.
Unfortunately, what comes as great news to Mentalist fans comes as a sobering blow to supporters of a few other shows. In the wake of the procedural's pick-up, CBS gave the axe to dramas Intelligence and Hostages, as well as comedies Bad Teacher, Friends With Better Lives and The Crazy Ones. Of the three, the Robin Williams weekly is clearly the biggest surprise. Because of a large budget and middling numbers, the show found itself firmly on the bubble. Many believed Williams and his co-star Sarah Michelle Gellar, both TV veterans, could make the show work with enough time to build an audience, but in the end, that hope apparently wasn't enough to keep the show around.
Planning a network isn't easy. It requires a delicate balance of forward-thinking and stability. It's important to keep shows around that people love, that are proven money-makers. It's also important to keep around some critical darlings, some award winners and maybe even a few niche productions, as well. Not everything can be vanilla, but balanced with that has to be a steady stream of new content. Waking up to suddenly discover every popular show is on the decline is a network's nightmare. As a result, tough, unpopular choices have to be made.
As for where any of this fits into CBS' line-up, that information is still unclear. Entertainment Weekly had the scoop on the cancellations/ renewals, but we probably won't know if The Mentalist is moving until the upfront presentations. Honestly, I hope not. CBS has a nice little lineup going with Amazing Race, The Good Wife and The Mentalist in that order, and since the weekly whodunit lost a good percentage of its viewers the last time it moved from Thursday to Sunday, I would hate to see it bleed off some more of its audience by going to another night, especially when it's getting good.
Thanks to a complete overhaul in location, The Mentalist has spent this season producing some of its best plotlines in years. Lead character Patrick Jane now works for the FBI instead of the CBI. Cho and Lisbon are along the for the ride, along with several fascinating new characters, and Rigsby and Van Pelt are out. They may make the occasional cameo in future episodes, but basically, they're done. In their absence, we've gotten a show that has returned to its procedural roots. A greater emphasis has been placed on eccentric, standalone cases, and the results have been nothing short of wonderful. Clearly, CBS noticed.
We'll keep you updated as we hear more. Until then, here's a pictorial reminder of the shows that got the axe...
The Crazy Ones
The Crazy Ones was a half hour comedy starring Robin Williams and Sarah Michelle Gellar. Critical response was pretty good, and based on teh star power, hopes were really high. By the end of its run, it was able to build a pretty steady audience who was invested, but the total viewers just weren't high enough.
Hostages
This intense drama starring Dylan McDermott and Toni Collette ended in January, and with numbers in the four to five million range, it was a pretty sure bet it would get cancelled. The longer a program lingers, however, the more of a chance something flukey will happen. So, its biggest supporters were still holding out hope. No such luck.
Intelligence
There was a ton of excitement for this pilot. In fact, it drew more than sixteen million viewers, but unfortunately, that figure was more than cut in half by episode number to. Leads Josh Holloway and Marg Helgenberger actually worked fairly well as an on-screen duo, but not enough people fell in love with the material.
Friends With Better Lives
Friends With Better Lives was an emsemble comedy featuring a slew of people including but not limited to James Van Der Beek and E from Entourage. It followed a group of friends in that awkward late 20s/ early 30s middle stage in which some were married, some were still single and all were trying to find their place in the world.
Bad Teacher
An adaptation of the Jason Segal/ Cameron Diaz movie, the comedy featured budding star Ari Graynor, as well as a sweet supporting cast that included Sara Gilbert, Ryan Hansen, David Alan Grier and Kristin Davis. It actually seemed like a high level priority when it was first announced, but it didn't debut until after mid-season, and CBS didn't exactly put a ton of effort into marketing it.
Your Daily Blend of Entertainment News
Enthusiastic about Clue, case-of-the-week mysteries, a great wrestling promo and cookies at Disney World. Less enthusiastic about the pricing structure of cable, loud noises and Tuesdays.