Swedish Novel-Based Backstrom From Bones Creator Gets Pilot Commitment From CBS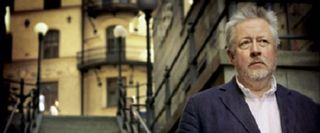 A set of Swedish novels by criminologist Leif G.W. Persson is headed for a pilot at CBS after failing to go to pilot at Fox last year. Backstrom has a pilot production commitment from its new network home; it seems CBS has been after the rights to the books for some time and it looks like they're moving pretty quickly on the project.
The books, which are popular at home in Scandinavia, center on an overweight curmudgeon of a detective, Evert Backstrom, who is described as being to investigations what Gregory House was to medical mysteries. That is to say, he's a bit of a jerk but he gets the job done, all while wrestling with his self-destructive nature. There are so far two books featuring the character, and author Leif G.W. Persson has other books as well, with over 6 million copies sold. Scandinavian books seem to be doing pretty well in the U.S. lately, including The Girl With the Dragon Tattoo that went to feature film and a set of Norwegian crime novels by Anne Holt in development for a TV series as well.
Bones creator Hart Hanson is behind the project, according to Deadline and originally had the project at Fox, which is home to Bones. In spite of heated interest in the project, it didn't go to pilot there, and when it came back up for grabs CBS nabbed it. Hanson was also behind the short-lived Bones spinoff The Finder; hopefully this new project will prove more successful. The pilot production commitment from CBS is a so far the biggest commitment to a series by the network this season, which certainly says they're heavily interested – of course, that doesn't mean viewers will be interested if it goes to series.
Your Daily Blend of Entertainment News