TNT Picks Up Macy Pilot 'Family Man'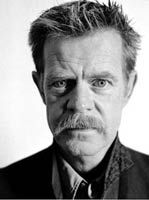 Tony Soprano may be gone for good, but family men with a dark side aren't going anywhere. The Hollywood Reporter tell us that William H. Macy will take a trip to the dark side on TNT with 'Family Man,' a one-hour drama about Todd Becker, a pillar of his community by day and the ringleader of a burglary group by night. Macy wrote the pilot with Steven Schachter, with whom he also wrote TNT's 2002 TV movie 'Door to Door,' which won both men Emmys.
TNT hasn't picked up the pilot as a series yet, but it seems to have pretty much everything going for it. The executive producers are even Craig Zadan and Neil Maron, who have a major hit in theaters with Hairspray. Granted, the idea of a mashup between 'The Sopranos' and Hairspray isn't exactly appealing, but throw William H. Macy in there? That man can handle anything.
TNT has greenlit another pilot, an untitled legal drama from the king of legal dramas, Steven Bochco. Jane Kaczmarek (a television luminary from her time on 'Malcolm in the Middle') and Mark-Paul Gosselar (a television legend from his time as Zach Morris on 'Saved By the Bell'...at least to my generation) will lead the cast.
In general, it looks like TNT is beefing up its "We Know Drama" tagline with some actual talent; adding these names to Kyra Segdwick's ('The Closer') and Holly Hunter ('Saving Grace') will only boost their credibility.
Your Daily Blend of Entertainment News
Staff Writer at CinemaBlend