TV Recap: American Idol- The Final Two- Let's Get Ready To Idol!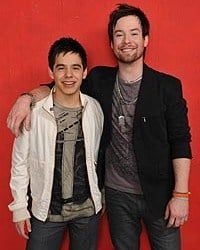 For most people, tonight's American Idol isn't a competition, it's a coronation. For weeks, David Archuleta has been dominating the pre-Finale chatter, with most believing only a miracle performance by David Cook will prevent everyone's favorite teen (with everyone's least favorite dad) from taking the Idol title. But just as the Archie bandwagon as grown, there has been just a big an Archu-backlash. Has he been too over-hyped? Does he actually have a personality? And will ever stop being shocked that he causes girls to faint? Well, it will be all decided after tonight's performance show, which features selections by Clive Davis, two songs from the American Idol songwriting contest, and two pick by the contestants themselves. So before the debate begins, let's see how it goes down:
The obnoxious pomp and circumstance begins with Michael Buffer to kick off the show. Now I didn't think this could any worse, but the two Davids are wearing boxing robes and pretending to shadowbox. I'm sure this is the closest Archuleta has come to being in a fight without his dad stepping in. When Ryan comes out, he makes the crowd scream for their favorite contestant, which, as everyone knows by now, is pretty unfair to do to David Cook. They then go to a filmed piece which again makes use of the boxing analogy (is Fox getting into the fight game or something?). Please, as a boxing fan, keep the sweet science away from Idol!
It's now time for Cliché Theater staring Ryan and the judges. Never have so many overused, tired phrases have been crammed into a three minute segment. Randy tells the boys that they have to "bring it," Paula actually says "Let the best man win!" and Simon, which you have to give him credit for, says that hating your opponent is one of the keys to winning Idol. Unfortunately, this leads to the two Davids declaring their undying love for each other, the highlight of which is David Cook saying, "As far as I'm concerned, this competition is over and we're to have fun." There probably isn't a 12-year old girl who doesn't disagree with David Cook right now.
We start Round One of the competition with a film piece about Clive Davis. Davis, who is about 100 years old, is in charge of choosing the first round of songs for the boys. He picks "I Still Haven't Found What I'm Looking For" for David Cook, which Andrew Lloyd Weber (who is back AGAIN for some reason) says is a pretty tough song for Cook to do. Cook's version of U2's song is a little too breathy in the beginning. I know it's a ballad, but instead of conveying emotion, he sounds like Scott Stapp trying to pick up a girl in a karaoke bar. After a verse or two, it gets better, like he needed to find the right voice for the song. It's not perfect by a long shot, but it's decent. My problem is he doesn't sound like he's performing in the final of the show; instead he does the song like it's Week 6. Randy says he didn't do everything he could, but it was hot, Paula gushes about how great it was, and Simon gives him a "phenomenal," despite looking stiff in the beginning.
David Archuleta's song is "Don't Let The Sun Go Down On Me," by Elton John. They set him up on a huge staircase in the middle of the stage, and he looks like a kid who got lost on a Disneyland ride, and is waiting for his parents to pick him up. Clive Davis picked a great song for David. Because his voice has such power, he really takes on the emotion of the song. I think he killed David Cook on this one. The crowd goes insane at the end of it, which will probably be a trend for the rest of the night. Randy jump starts the Archie-mania by saying he peaked tonight, and that it was "MOLTEN HOT!" Paula admits that she has goose bumps, and Simon says tonight was the best he has done in the entire competition, and gives Round 1 to the Boy Wonder. Archuleta really did crush this song, and I'm sure they'll try to ask Elton John to let Archie record it for his first album.
Round Two features songs from the American Idol song contest. In the past, the songwriting competition entrants, have been, well, lame. So this time they listed 10 songs, and let the contestants pick which ones they like best. This also prevents the contestants from doing the same unknown (and usually terrible) one twice. David Cook picks a song called "Dream Big." Cook is trying to make the song his own but it sounds like something Jon Bon Jovi would write for a video montage for his AFL football team. Cook is putting all the appropriate accents on it, but he fades out a couple times, which makes it seem like it's not all that invested in the song. This is such a cheesy song that it's taking away from the performance. It's not bad, but again, not FINALE worthy. Randy thinks the song is only OK, but DC was "singing his face off," Paula says she fell in love with it, and Simon likes the end, but he didn't feel the love. Paula then gives a spoiler away saying that song didn't win the songwriting contest (Shocker.). Again, David coasted again through a performance, which only gives him one more chance to even come close to Archie.
David Archuelta's choice is "In This Moment." In the first 30 seconds, there is a blast of girly screaming from the Nokia theater that almost sounds fake. This song is so wishy-washy that pure sugar is starting to come out of my TV. I'm actually missing that fake Jovi song from before. The song plays to Archie's strength's by having a lot of long, right notes he can do his big runs with. By the way, Idol is smart not to profile the songwriters who contributed the songs, because if I saw whoever came up with this one on-camera, I can pretty much guarantee I would hate them. This is a song that only an innocent teen could pull off. Randy doesn't like the composition itself, but gives Archie good marks, Paula says it doesn't even matter that the song is anymore, and Simon thinks Archie picked the right one and he's won Round Two. Really, is it even a contest anymore?
Round Three is contestant's choice, and Cook is going out on a limb by picking a song he hasn't done before, which is "The World I Know," by Collective Soul. He pulls out the acoustic guitar for this one. For his final performance, he picks a song that doesn't have any real power or bite to it, which is a huge mistake. He had to know that he would most likely be behind after two rounds, so to pick a more reserved song that doesn't have any big notes until two minutes in was really dumb. In the final round, he didn't sound any better than a guy in a bar on a Thursday night; versions like his are usually done with a pint glass full of dollar bills and a guitar case with CDs in them for sale. David then starts to cry, which could be because he knows this show is over. Randy gives him a "very nice job," Paula gives him a standing ovation and applauds his "originality," which is Paula-speak for "Nice knowing ya," and Simon starts him comments by saying what a nice guy Cook is (like he's breaking up with him) and then slams the song choice. Simon is right that DC should have done either of his previous covers of "Hello" or "Billie Jean." If he would have redone "Hello," he might have had a chance, but I think David Cooke just wanted to showcase what he's capable of, since he pretty much admitted the American Idol crown is out of his reach.
David Archuleta's final song is "Imagine," which he did early on in the season. Because this was already a fan favorite, there's no doubt everyone is going to love it. It would really take a lightening bolt to strike David Archuleta for him not to win tonight, and even if that happened, the swaying girls in the front row would find away to prop him up, finish the song, then vote ten times for him. Randy says "finally" the best singer is left on the show, Paula is again speechless and calls him stunning, and Simon think the show has found a star tonight, and it's a knockout for Archie.
It's been a long five months, and we've seen more cover versions of songs than any normal person should have to endure. And for a show that seemed it to have crowned a winner in February, there were still some performances worth talking about. I want to thank everyone who read these recaps, and give special attention to those who took time out to write comments at the bottom on a regular basis. Also, thanks to Kelly, who read and fixed all these recaps no matter what time I handed them in, even when they were written after a night of…uh…carousing. See you next Idol Season!
Your Daily Blend of Entertainment News
Thank you for signing up to CinemaBlend. You will receive a verification email shortly.
There was a problem. Please refresh the page and try again.