TV Recap: Entourage - The Cannes Kids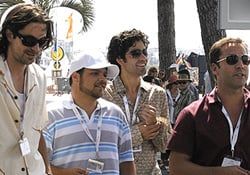 I'm not sure if I could call what happened in the season finale of Entourage a surprising turn of events. We all knew there was a good possibility that Medellin could bomb at Cannes. Eric constantly voicing his reservations about the film seemed fairly ominous. While the guys gave him a hard time about his constant negativity, he turned out to be right about the movie.
We also knew that karma might play a factor in whether or not they're able to sell the movie after what happened with Eric and Harvey earlier in the season. So its possible that some of us predicted things would turn out this way but still, it was a crazy finale and thanks to Drama, there were at least a few laugh out loud moments.
The minute the guys set foot in Cannes, Yair Marx approached them about Medellin. He wanted an early screening and offered to buy the film for $35 million (which is what it cost to make it). The guys wouldn't consent to letting him see the movie before everyone else and were just as hesitant to sell the film without taking other offers.
They did present the deal to Nicky Rubenstein, who funded their trip to France but couldn't go with them because he's on house arrest. While Nicky chattered loudly to Ari about getting a fair deal on the movie, two hookers sat around in the background doing lines. It was a surreal scene that made Nicky's hyper-ness all the more hilarious in contrast to the serene, topless call girls.
Ari was hard at work trying to get other people interested in the movie before the screening. He got in Dana Gordon's ear and mentioned that they had an offer. She didn't believe him until she witnessed Harvey Weingard (the studio exec that Eric royally pissed off) screaming at Eric. Ari saw Dana watching them and made a show of hugging Harvey, giving Dana the impression that the deal they had was with him. It worked like a charm and Dana got permission to make an offer on the film.
After some haggling, the guys got Dana to agree to match the other offer, all the while, letting her think it was Weingard who wanted to buy the film. Their motives were to get an Oscar-winning studio on board with the movie rather than selling it to Yair Marx, a rich prince who, aside from having a hefty wallet, has no real connections with anyone in the industry.
When word got back to Yair that Dana Gordon made an offer on behalf of the studio she works for, he got in touch with Nicky directly and upped his deal to $75 million. The guys figured they were sitting pretty with this and headed off to the screening. The movie bombed. Ari actually fell asleep during it and everyone else looked bored. What was worse, when it ended, someone booed and people just started getting up and leaving while Billy sat there and clapped for his own movie. How tacky! After this, he got up and shouted at the people who were walking out the door.
Dana thanked Ari for not selling her the movie and then Yair said he wasn't buying it. As it hadn't signed anything, all they could do was sue him and he didn't seem all that concerned by that.
Harvey sat down next to Ari and without being nearly as smug as he could have been, said Eric was right – that there is genius in the movie and he wants to buy it – for one dollar. Sold. I have a feeling that Harvey will see that the movie is tightened up and made into an Oscar contender before it hits theaters. While the season didn't end well for the guys, things always have a way of working themselves out on this show and I expect this story arc to be no exception.
As for the filler, Drama's status as a former Viking Quest star was huge in France. French people love the show and he had no problems finding his dream girl right away. Unfortunately, the hotel screwed up his reservation and the best they could offer him was a tiny room that did not meet Drama's high-class standards. After a verbal scuffle with the hotel desk clerk, Drama was ejected from the hotel and couldn't find his lady-friend after that. He spent the night on Yair's boat and met up with the guys at the screening.
The girl showed up outside the screening of Medellin and an overjoyed Drama ditched the movie to spend three house making sweet Viking love to her on the beach. Inevitably, this event got quite an audience after Medellin let out. At least the people that had to sit through that long boring movie got something good to watch before heading off to the after parties.
We also got to see a few snippets of Lloyd's adventures on the Rosie cruise. While Ari was desperately trying to boost the hype on Medellin, Lloyd was drinking what was either a Mimosa, a Screwdriver or some other orange drink, which poured from an ice spigot in the shape of a very large penis. There was something seriously amusing about Lloyd touching the tip of that thing as he chatted with Ari on the phone.
As an ending to the season, I feel satisfied. Like I said, I think things are going to work themselves out for Medellin now that Harvey's on board. I love the fact that he of all people was the only one who made an offer for the movie after having seen it. That's Karma for you. I guess this guy knows a good deal when he sees one.
Your Daily Blend of Entertainment News
Assistant Managing Editor
Kelly joined CinemaBlend as a freelance TV news writer in 2006 and went on to serve as the site's TV Editor before moving over to other roles on the site. At present, she's an Assistant Managing Editor who spends much of her time brainstorming and editing feature content on the site.