TV Recap: Greek - Spring Broke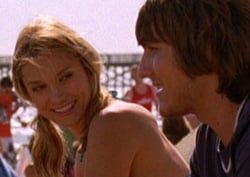 Tonight's episode of Greek was kind of like New Year's Eve, to use an analogy provided by Casey. It didn't live up to the hype. Casey blames the media for the New Years Eve syndrome. In the case of this finale, I blame ABC Family. The Casey/Cappie and Evan/Frannie kisses were teased in the preview for the episode and those scenes turned out to be the only two significantly noteworthy moments tonight. It just didn't feel like a season finale.
Spring break really didn't turn out the way anyone planned it to. Apparently at Cyprus Rhodes, everyone spring breaks at Myrtle Beach. Well, the Greeks do anyway. Dale decided not to go to "Sinners Beach" for some surf, sand and sin in favor of doing a little turkey hunting with his family. It's for the best, what with all the drunken injuries, pregnancies and parasailing gone awry that goes on during spring break.
"Since when did ambition become such a terrible attribute?" – Calvin
"I think in the 80's." - Dale
Rusty is psyched to go to Myrtle Beach with the Kappa Taus. The group sets off in a nasty old school bus that barely starts. This is the beginning of Rusty's misfortune. Beaver is left to pack the luggage onto the bus and he opts to pull two suitcases off so that there's room for one of the kegs. One of the bags turns out to be Rusty's. The bad luck doesn't end there. After spending a long time waiting in line to get into the club, Rusty learns that the real Chad Stewart is there. Since Stewart is standing a few people ahead of him in the line, Rusty gives up on attempting to use his fake ID (which he later deems cursed) and goes back to his room. The next day his asthma comes back and he gets sunburned. That's enough spring break for Rusty. He heads to the bus station to go back to school.
As it turns out, a day or two is more than enough spring break fun for Calvin as well. He misses Michael and isn't interested in rejecting the advances of young co-eds all week so he too decides to take the bus home. I was wondering why we hadn't seen Rusty and Calvin together in a while. Things got awkward between the two of them when the Kappa Tau's and Omega Chi's were at odds and since then, they've been apparently been too busy not talking to each other to hang out.
When the bus breaks down, Rusty decides to join Calvin in walking to the next town to try to rent a car. Neither realized you have to be over 21. I thought it was 25 but maybe that's New York State or perhaps they just made up the 21 thing to give Rusty one last excuse to fail at using his fake ID. Yeah, he tries to use the ID and the rental car lady doesn't go for it. Luckily, Dale was kind enough to drive out and pick them up. Then he locks them both out of the car until the resolve their dispute. Dale says what we're all thinking, telling Rusty and Calvin how dumb it is that they're not friends because they're in rivaling houses. Rusty and Calvin both admit to being at fault and the three musketeers share a nice group hug. Please let this be the end of the Rusty/Calvin drama.
The Spring Break List
Casey's determined to leave behind her role as ZBZ president and just enjoy herself on spring break. This includes finishing off the spring break list she and Ashleigh made when they were freshman. She still has to enter a contest, skinny-dip and play a drinking game. She does end up crossing off the remaining items on the list during the vacation. This includes entering a sand castle contest that reminded me of that episode of 90210 when the West Bev gang entered a similar contest and for some reason everyone who was participating had professional sand-castle-making skills.
While Casey's off relaxing and remembering what she used to be like before she was burdened with the job of the ZBZ presidency, Rebecca learns some bad news while relaxing on the beach. Earlier in the episode she was all about taking long walks on the beach with Cappie and riding on a banana boat in typical tourist fashion. Then after she gets a phone call from a newspaper, something changes. She gets drunk, tries to join a wet tee-shirt contest and then tells off Cappie, saying he's beneath her. Something's definitely not right but Cappie, who got punched in the head by a drunk guy shortly after Rebecca told him off, doesn't totally get the scope of the situation.
He and Casey take a walk on the beach and have a chat about their futures. Cappie loves seeing the side of Casey that he remembers of her from freshman year. This results in them kissing briefly. Then when they get back to the hotel they see on the news that Rebecca's senator-father was implicated in a prostitution ring. This explains why Rebecca's outburst earlier. Cappie and Casey agree that the kiss was nothing (yeah right) and he goes up to console Rebecca.
The Hotness Monster
On their first night in Myrtle Beach, Ashleigh meets a hot guy who impresses her by opening a beer bottle with his flip-flop. She totally doesn't appreciate the grossness of this little party trick (though Casey does) and is completely smitten by him. She spends most of the week looking for the guy and begging her sisters (including Betsy, who is once again completely hammered and puking all over Myrtle Beach) to try and find him. Her hunt for the "hotness monster" turns out to be a total failure as she never does find the guy. In the end, she and Casey enjoy a great sunset on the beach, after which they decide to cross off the skinny-dipping thing from the list. The episode ends with their clothes getting stolen.
Warm body rule applies even here.
Evan spends the whole week making eyes at Frannie whenever he sees her. She avoids him for a while but then after a night of drinking, the two decide to raid the hotel vending machine and sober up. When it comes time for them to kiss (ah, the taste of booze mixed with cheese doodles… Mmmm), Frannie stops and asks Evan if he's just doing this to get back at Casey or if he actually likes her. Evan says both. He in turn asks her if she's going to kiss him because she likes him or because he's Evan Chambers. She says both. So it's established that there's a genuine attraction but they're also sort of using each other. Now that that's out of the way, they make with the kissing.
And that about covers it. This wasn't a bad episode, it just didn't feel like a season finale. Though I am interested in seeing how Casey reacts when she finds out about Evan and Frannie. Also, was it me or was their twice the amount of commercials as compared to a normal episode? What did you think of the finale? Do you think Rebecca will find out about the Cappie/Casey kiss? Will Rusty and Calvin's friendship last, this time around? Will Betsy remember hurling chili dog all over the place at the party? Find out when Greek returns for a new season this fall.
Your Daily Blend of Entertainment News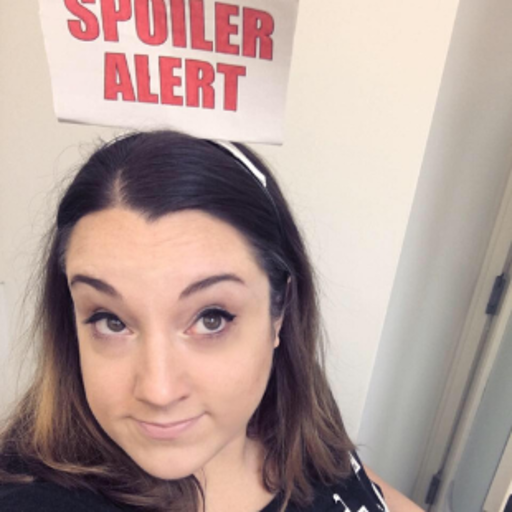 Assistant Managing Editor
Kelly joined CinemaBlend as a freelance TV news writer in 2006 and went on to serve as the site's TV Editor before moving over to other roles on the site. At present, she's an Assistant Managing Editor who spends much of her time brainstorming and editing feature content on the site.