TV Recap: In Plain Sight - A Fine Meth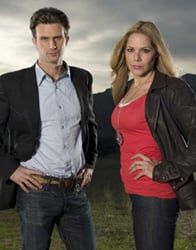 Okay, the writers must have been taking some of the meth Brandi was going to sell when they wrote the season finale of In Plain Sight. And no, that isn't a good thing.
The finale starts with mom and Brandi both pissed at Mary, who just got home from being kidnapped, nearly raped, and forced to kill somebody. Oh, but how could you not help your baby sister? That was the question of the night in Mary's house. Mom was all over her and Brandi pouted out of the room when Mary said she would turn her in if she mentioned any details.
Meanwhile, Marshall and Stan are trying to keep Mary out of jail for any possible connection between her and the murders of the FBI agents in last week's episode. But once again, how could Mary possibly feel superior? People were all over the place this week. Mary and Mom were fighting, then crying. There were letters from Mary's dad for the past 20 years that were brought out to prove that he loved her the most. I guess he hadn't had any contact with Brandi or Mom since he left. So they get mad at Mary. Shocker. I mean, how am I supposed to care about anyone in this family when they're crazily self-centered and a little bit evil. Yup, I said it. Mary needs to be away from them once and for all but I don't see that happening. There's that crack smoking again.
And then, Raph drops by to explain what happened with Brandi. He tells her how upset Brandi was that she gave away the bear that Mary gave her. Boo hoo. Seriously, am I supposed to feel bad for her now or what? Well, even if I don't , Mary does and she decides to help her. Whatever. I guess she's a bigger person than I am.
So back to the FBI's investigation. FBI guy who flew in from NJ is still all about making sure Brandi is the mastermind behind the entire deal and now he's out to prove Mary's part of it, too. Marshall and Stan are frantically trying to prove just the opposite. Of course, they pull threw in the end and get Spanky, the guy who kidnapped Mary, to confess that Chuck (aka loser boyfriend) was behind the whole deal. It was pretty much a done deal but FBI guy wasn't bending. He got a search warrant for Mary's house, property, and car. This is served just as Mary's speeding out of her driveway with the suitcase full of drugs in the backseat. Of course.
Mary is cut off directly in front of her house and served with the warrant by FBI guy. He triumphantly pulls out the suitcase as Mom, Brandi, Marshall, Stan, and everyone else in the Albuquerque Police Department is watching. He opens it and its towels. No drugs, just towels. There's a quick glance between Brandi and Mary that no one else detects and they continue to search, and completely destroy, Mary's house. I'm talking holes in walls and the ceiling and everything just thrown everywhere. How Mary can stand this is beyond me. But in the end, FBI guy says he's not giving up as he leaves the house. Mary is left with her annoying family and destroyed house. I've never wished for a more emphasized adjective than annoying. There is honestly nothing redeeming about Brandi or Mom and I've over it.
We'll have to wait to see if Mary and company return for a second season but I'm hoping if they do, Mom and Brandi move far away and never come back. Maybe they can be whisked away by new guys since that's all they're about and live in Asia or something. I don't know. I do know that I saved the most ridiculous tidbit of writer insanity for last. The missing drugs were taken by Raph and guess where he put them. You'll never guess so I'll just tell you. They are being used to line the baseball diamond. Yup. You read right. So now every time a player slides into a base or the ball hits the line or anything, meth gets kicked up and directly into the player's face. Sure, that's not going to pose any kind of problem. Raph should totally have that smirk on his face.
Your Daily Blend of Entertainment News