TV Review: Army Wives - Season 2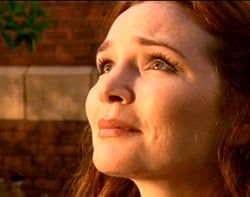 Army Wives - Season 2
Starring: Kim Delaney, Sally Pressman, Brigid Brannagh, Catherine Bell, Brian McNamara, Sterling K. Brown, Wendy Davis, Drew Fuller
Created By: Katherine Fugate
Airs: Sundays at 10:00 p.m. on Lifetime
Oh boy, do I have a new guilty pleasure. I don't generally spend a lot of time watching Lifetime. There's just something about getting roped in to overly dramatic, emotional stories in the form of made-for-tv movies featuring semi-famous actors that doesn't appeal to me. Then yesterday, I stumbled across a marathon of Army Wives and I completely caved. The drama series follows a group of women (and one man) who are married to Army guys (and in the man's case, an Army woman).
Among the characters is Roxy, a gorgeous bartender who is the newest Army wife among the main characters. She's got two kids from previous relationships and along with juggling her job at the bar and her job as a mom, she's also constantly trying to adjust to being married to a soldier. Denise just recently became an RN and now not only does she have a husband in the Army but her son is also enlisted. Claudia's the most refined of the group. She's married to the post commander, which pretty much makes her the unofficial leader of the Army wives. Pamela's an ex-cop who left her job behind to be a fulltime mom and army wife. She also does a radio show on the post where she discusses life as an army wife. Then there's Joan, who has actually in the Army as a lieutenant colonel. Joan's married to Roland, a civilian psychiatrist who, as an Army husband, faces similar challenges as the Army wives.
The main characters come from different backgrounds and are somewhat mismatched personality-wise but because all of them have similar hopes and fears, dealing with life on the base and the loneliness that often comes with being married to someone in the military, they mesh together well.
Tonight's season premiere showed us the aftermath of the explosion caused by Marilyn's crazy, abusive husband. Who lived and who died is revealed and without getting into the details of the episode (in case you haven't had the chance to watch it yet), I will just say that I found myself somewhat impressed by the twist at the end and much to my own dismay, I did get a bit choked up. Yeah, you could argue that we were meant to be emotionally manipulated by the surprise death but to me, it was executed well and while the twist wasn't entirely original, it was a creative way to give this particular character a memorable send-off, especially considering we know there will be plenty of time in future episodes for us to get a more direct view of the grief the other characters are going to be experiencing as a result of this character's death.
I can't say for sure how closely this series mirrors what it's really like to be an Army wife, as I am not an Army wife, myself. I do think the series portrays Army wives in a good light (and not just because all of the main characters are extremely good looking). The main characters are all strong women with a good sense of the importance of friendship, love and appreciating the time they have with their husbands, who are often being deployed overseas for months or longer. As a non-Army wife, I can't really relate to what they're going though (though I am curious to know what real Army wives think of this show), but that's part of the appeal of Army Wives for me. I think there are probably plenty of women out there who wonder how wives of military men get by. What's it like moving around all the time? What is a military base community like? How do they sleep at night, knowing their husbands could be in mortal danger at that very moment?
Again though, this is a drama series, not a reality show, so who knows how much dramatic license the writers take in trying to balance a realistic portrayal of women living on military bases with what makes for a good TV show. What I do know is that this series is extremely engaging. As a drama about the bonds of friendship and the importance of family, Army Wives works. Is it a total chick show? Yeah, I'd say so. It gets a bit soapy but overall, it's well written, the premise is original and the acting is good. Definitely a good combination for a Sunday night summer series.
Swipe to scroll horizontally
This poll is no longer available.
Your Daily Blend of Entertainment News
Assistant Managing Editor
Kelly joined CinemaBlend as a freelance TV news writer in 2006 and went on to serve as the site's TV Editor before moving over to other roles on the site. At present, she's an Assistant Managing Editor who spends much of her time brainstorming and editing feature content on the site.