TV Review: High School Musical 2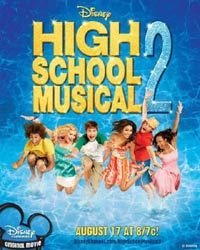 Directed By: Kenny Ortega
Premiered: Friday, August 17, 2007 on The Disney Channel
In the first High School Musical movie, high school students Troy and Gabriella broke free from the rules of high school which state that two people from separate cliques shouldn't mingle. Tweens all over the country obsessed over the musical, purchasing the soundtrack, the DVD and tickets to the High School Musical concert tour. And this weekend, they abandon the mall or wherever it is kids hang out these days and gathered around their TVs to watch the world premiere of the sequel, High School Musical 2.
The Story
Can lightening strike twice? Well if there's anyone that can turn the sequel into the mega-hit that was the original High School Musical, it's Disney. In HSM 2, the Wildcats leave school for the summer and find employment at the local country club, owned by Sharpay and Ryan's parents. Sharpay was eager to spend some quality time with Troy, in the hopes of getting him to sing with her at the talent show. While the rest of the gang works as cooks, waiters, caddies and lifeguards, Troy quickly gets promoted to "Assistant Golf Pro" thanks to Sharpay's influence over her parents and the manager of the club.
Troy soon learns the benefits of his new position at the country club. He gets new Italian golf shoes and the opportunity to mingle with some of the higher-ups at the University he wants to attend. The promise of a scholarship lingers in the air as Troy ditches his friends to hobnob with the people who could help him get the collegiate future he probably couldn't afford without their financial assistance.
While Kelsi works hard to write new songs for the Wildcats to perform at the talent show, Ryan is eager to return to the stage to sing beside Sharpay. When Sharpay replaces Ryan's role in their act with Troy, Ryan, with the help of Gabriella, befriends the rest of the Wildcats and after playing a bit of baseball, he manages to convince them all to perform a musical number in the talent show with himself as the director. Ryan soon realizes that he can actually have friends and a life of his own. All he had to do was step out of his sister's shadow.
Gabriella eventually quits her job at the country club and gives Troy the "T" necklace he gave her earlier in the movie as a token of his sincere "like." After Troy learns that Sharpay got the manager of the club to ban the other Wildcats from performing in the talent show, he realizes he's sold out and does his best to bring everyone back together in time for the big show. Naturally, there's a happy ending and more than one group number.
In terms of the story, it's fairly simple. Gabriella and Troy set out to have a great summer but obviously, things didn't go as planned. A logical person would say that Troy was right to use the opportunities he had to solidify his future. There is life after high school, after all. But as I watched this movie I remembered my own days in high school and how great it was to be young and virtually care free. The whole lesson of this movie was that you shouldn't constantly obsess over the future because the present is constantly slipping away. Its corny but it's the truth. Kids are often so focused on growing up that they don't truly appreciate how great it is to be young. And though they'll surely go on to make new friends in college, they will always cherish the memories they've made with their friends in high school.
The Music
With a new High School Musical comes a whole new soundtrack. Similar to the original HSM, the sequel had a plethora of new upbeat songs that kids will surely memorize and sing repeatedly until their parents demand that they give it a rest. Since this is Disney, viewers can expect top-notch teen talent throughout all of the musical numbers.
The movie opens with the song, "What Time Is It," as the kids stare at the clock, waiting for the moment when school lets out for the summer. The song, like all of the songs in the movie, is accompanied by some great dance routines, choreographed by the film's director, Kenny Ortega. Ortega's not exactly new to choreography. If you've ever seen Pretty In Pink, Dirty Dancing or Newsies, you've seen his work.
Pretty much all of the musical numbers in the movie were group numbers. "Fabulous," "Work This Out" and "I Don't Dance," all showed off Ortega's talent at choreography as well as the cast's talent at singing and dancing.
Gabriela and Troy had a couple of duets including "You Are The Music In Me," "Everyday" and the surprisingly moving, "Gotta Go My Own Way."
The Talent
This probably doesn't even need to be said but these kids are fantastic. Zac Efron stepped it up with his vocal performances throughout the movie. Vanessa Hudgens managed to sing (or technically, lip-sync), cry and look gorgeous all at the same time while singing "Gotta Go My Own Way" and Ashley Tisdale brought back the humorous cattiness to her role as Sharpay, the typical rich blonde Barbie-esque snob. But I was most impressed with Lucas Grabeel, who returned to his role as Ryan Evans. Due in large part to his performance, I found myself more interested in his transformation throughout the movie than I was in Troy's.
As these kids are all Disney-bred, most, if not all will probably go on to do much more than this series of made-for-TV movies. The kids who are growing up worshiping them now will surely go on to buy their albums and see their movies for years to come.
In terms of the movie, from a grown-up's perspective, its totally cheesy and too clean to be realistic but for some reason, I don't want to complain about that. It is what it is. In this day and age, kids are constantly force-fed MTV's version of reality, which seems to state that in order to be "normal" in high school, you have to look and act a certain way. Granted, the East High Wildcats are no where near a realistic portrayal of high school kids, as there doesn't appear to be any outsiders among the group but it is nice to see that kids still embrace these films, despite the lack of gritty reality. High School Musical 2, like the original, isn't meant to be realistic. It's meant to be fun and in that respect, like the original, it succeeded.
All in all, for a sequel, I think Disney did a great job of bringing back the same energetic, squeaky-clean charm that drove the first High School Musical to its initial success.
This poll is no longer available.
Your Daily Blend of Entertainment News
Assistant Managing Editor
Kelly joined CinemaBlend as a freelance TV news writer in 2006 and went on to serve as the site's TV Editor before moving over to other roles on the site. At present, she's an Assistant Managing Editor who spends much of her time brainstorming and editing feature content on the site.