TV Review: The Hills - Bitchy Encounters of the Third Kind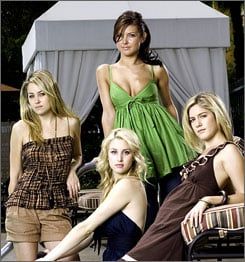 Lauren may have been totally over the over-achieving mega-intern who became quite the upstart when she outperformed Lauren in just about every aspect of the job, but I was completely riveted by the seemingly perfect New-York-bred Emily and her excruciatingly impressive work ethic. The flawless feet-first camera pan that introduced us to Emily made us feel like we were watching "Ugly Betty" or The Devil Wears Prada. That's how epic it was. Whitney, as usual, gave an excuse (okay, I'm being too harsh on the girl, she was getting her wisdom teeth removed) to Lisa when presented with the important task of planning the Teen Vogue dinner, leaving Lauren alone to work with Emily. The inconveniences tying Whitney down always seem to be convenient ways for the producers to get in some classic Lauren-only moments. Sigh. The things one does at the expense of camera time for Whitney…
It's not that Lauren is less capable or less hard working than Emily, it's just that the girl's not worldly. She may be quite knowledgeable about L.A. love, but the girl doesn't know Chinoiserie from, well, actually she just doesn't know Chinoiserie at all (nor does she know the random flowers that Emily boasted to have had in her home). Emily, a full-time student at NYU with an internship at Chanel in addition to her job with Teen Vogue, is precisely the yin to Lauren's yang, and the two could have probably worked well together had they realized the complementariness of their disparate skills. Lauren visited a wisdom-teeth-less Whitney (congratulations to Whitney's parent's house for making its first appearance!) and expressed her newfound appreciation for Whitney's presence at work (that is, Whitney outshines Lauren, but in much more subtle and tasteful ways than does Emily). Lauren didn't seem to care much about Whitney's faulty surgery, but neither did Whitney. The two exchanged knowing grins when, later, Lisa requested that some of the flowers (that Emily picked out) at the dinner be taken away, though it was only seconds later when they mutually grimaced at Lisa's decision to invite Emily to the dinner. The fakeness was so thick at the final encounter between Emily and Lauren and Whitney you could cut it with the knife Emily used at the dinner while Lauren and Whitney moped in a car.
I don't know how Audrina felt herself, but I felt unbelievably relieved when I saw Audrina was let in on the Spencer trash-talk fest with Heidi and Lauren. If that isn't absolute proof that Audrina has reclaimed her position among the girls, then Lauren can't type. (According to Lisa Love, that is just about all Lauren can do when it comes to dinner planning. Apparently Lauren's subpar handwriting is not appropriate for the invitations sent out to those eminent beings at Teen Vogue.) Spencer got ambushed via speakerphone when Heidi, with Audrina and Lauren, confronted him about his shameless double-dipping. Spencer's lying has become increasingly pathological and his utter denial of Heidi's accusations certainly didn't mitigate the situation. When he called Heidi at work, she told him that she'd need a break before getting re-involved with him.
The unambiguous anti-Spencer advice abounded as Heidi confided in two co-workers, Lauren, and Audrina. Things became a little less clear as Heidi admitted to still having some inexplicably strong feelings for Spencer. Sia's hauntingly comforting "Breathe Me" played as Heidi drove off with Spencer into the heartless (according to Lauren) streets of L.A., answering the lingering questions of Heidi's loyalty. Thumbs up to the clever music editors' meaningful song choice, thumbs down to Heidi's cloudy judgment. All of my other fingers go to Super Intern.
Your Daily Blend of Entertainment News