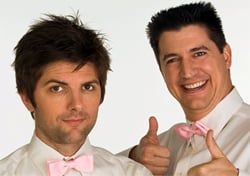 Party Down - Pilot
Starring: Adam Scott, Ken Marino, Jane Lynch, Lizzy Caplan, Martin Starr, Ryan Hansen
Created By: John Enbom, Rob Thomas, Dan Etheridge, Paul Rudd
Premieres: Friday, March 20, 2009 at 10:30 PM/PT on Starz
Ok, I need to say off the bat that when I first heard about Party Down, I was beyond excited. With Veronica Mars creator Rob Thomas, Veronica Mars writer John Enbom, VM producer Dan Etheridge and Paul Rudd listed as the co-creators of this new half-hour comedy series, how could the show not be great? Add that to the cast list, which includes Ryan Hansen, Adam Scott, Ken Marino, Maritn Starr, Jane Lynch, and Lizzy Caplan and the series is just a recipe for excellence. So I had my hopes pretty high that the show would turn out to be really funny. I wasted no time watching the two episodes that the good folks at Starz sent me and I'm very pleased to report that Party Down does not disappoint.
The series follows six aspiring stars who pay the bills working at a party company, serving drinks and hors d' oeuvres, playing music and making sure the guests at whatever party they're working are having a good time. My impression from the episodes I watched is that none of these people really care about their jobs. They're all just looking to earn a paycheck. The most motivated of the group is the team leader, played by Dan Marino, and he's really just trying to make sure things run smoothly so he can eventually impress his boss enough to get him to partner with him on a franchise restaurant that he hopes to open up one day.
Here's the breakdown on the cast: Ken Marino (Vinnie Van Lowe of Veronica Mars) is the team leader and kind of an idiot. Adam Scott (Tell Me You Love Me, Knocked Up and an episode of Veronica Mars) plays Henry, the failed actor who has returned to his old job at Party Down. He's not happy and hates being recognized for the one notable role he played. Ryan Hansen (Dick Casablancas of Veronica Mars) plays an aspiring actor/model/rocker who likes to hit on ladies and wants to hit it big. Martin Starr (Bill Haverchuck of Freaks and Geeks, the beard guy from Knocked Up) is Roman, a geeky screenwriter who thinks everyone who doesn't get things like references to Repo Man are idiots. Jane Lynch (Best in Show, 40 Year Old Virgin) plays a woman who was once an actor who did bit parts, which she likes to talk about occasionally. She has a tendency to get too chummy with the guests at the parties. And finally Lizzy Caplan (Amy from True Blood, Cloverfield, Mean Girls) plays a comedian with marital problems who is constantly trying to resolve her issues with her husband while at work. Looking at the actors' previous films and TV shows, it's impossible to ignore the Judd Apatow/Rob Thomas-ness going on with this cast.
The humor in the show is dry but oftentimes, laugh out loud funny and very clever. We watch as the characters interact with each other while also doing their jobs. It's clear that they're really only willing to perform just well enough not to get fired and even that's kind of a stretch. A lot of what makes the show funny are the random conversations the six characters have with each other, as well as the ones they have with the guests at the party. Enrico Colantoni (Veronica Mars, Just Shoot Me, Flashpoint) guest stars the husband of the host of the party in the first episode. He's a bored, pissed off suburbanite who can barely stand the life he's living and envies Henry for having taken a chance in becoming an actor, despite inevitably failing at it.
The cast is perfectly matched for the writing style. All of the actors in Party Down deliver lines with deadpan humor that serves to make what might be otherwise a depressing glimpse into the lives of a bunch of fictional wannabes much funnier than you might think. As I'd hoped, the combination of talented, clever writers mixed with a group of humorous and fairly underrated actors has given me another excuse to call up my cable provider and subscribe to Starz.
It's like a bunch of Judd Apatow movies had a baby with Veronica Mars, and that baby is Party Down. And just as an aside, as this is a pay-cable series, expect a fair amount of swearing, some nudity and other adult-oriented humor.
Your Daily Blend of Entertainment News
Assistant Managing Editor
Kelly joined CinemaBlend as a freelance TV news writer in 2006 and went on to serve as the site's TV Editor before moving over to other roles on the site. At present, she's an Assistant Managing Editor who spends much of her time brainstorming and editing feature content on the site.