TV Review: Studio 60 on the Sunset Strip: Sorkin Within A Sorkin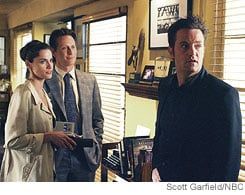 Fourth-place networks have no choice but turn to ironically insightful self-deprecation in search of any semblance of a hit that may bring back some network prestige. 'Studio 60 on the Sunset Strip' is supposed to be a television show about an 'SNL'-like (presidential impressions and raunchy cartoons included) live sketch comedy, but it feels more like Aaron Sorkin doing an uncannily entertaining job of mocking himself, which surprisingly makes for pretty engrossing dramedy.
The not-so-scintillating Trump contests and tacky war theme songs (so faithfully embraced by NBC) discussed in the 'Studio 60' executive producer's ranting monologue are the precise reasons the producer believes we should all hate television and turn off his show (well, the show within the show). Sorkin takes brazen risks with his pilot script that both pay off and invoke cringes. Blatantly talking to his audience about his personal views on television in crafty dialogue works for him in more ways than one. In the process of creating potentially absorbing characters, Sorkin tears himself apart.
As much as it makes you want to believe it's a show about 'Studio 60,' 'Studio 60' is a show about the making of an Aaron Sorkin show. Sorkin's biting filmic intimacy, which drove 'The West Wing' and 'Sports Night,' is the focus of wonderful satire in his newest show. The incessantly rambling chitchat of Sorkin's previous shows is the subject of sardonic comedy throughout much of 'Studio 60''s pilot: writer Matt Albie (Matthew Perry) misses the announcement that he won the Writer's Guild Award for Best Screenplay because he was busy "West Winging" (aka wittily droning on about matters of little consequence to most people).
Newly crowned NBS head Jordan McDeere (Amanda Peet), who doesn't even know where her office is yet, turns to unlikely candidates Matt Albie and Danny Tripp (Bradley Whitford) to run the sketch show after the executive producer's 53-second unedited live rant reveals the many flaws of the once-funny show. Danny's cocaine addiction leaves the two no choice but to accept the position they would have otherwise never accepted. (They seem to have much in common with NBC.)
Perry, who could have invoked his Chandler of 'Friends' to tap into Matt's psyche but thankfully does not, and Whitford, who reveals the most appropriate shades of character at the perfect moments, buzz together with delightful chemistry. Peet's caustic and idealist Jordan, though unnatural on her own, banters well with Perry and Whitford.
Matt, recovering from back surgery, feels the effects of Vicodin throughout the entire episode. Sorkin must have been surfing the undulating numbness (and obliviousness) of Vicodin as well, knowing at the time that a show this unconventional may not last (especially with the similar '30 Rock' on the same network) past the first season, when he wrote the pilot to 'Studio 60.' This may be why everything that works about this show (which is most things) has nothing to do with Sorkin's original idea of making a show about a show, but everything to do with his unintentional creation of an Aaron Sorkin show about an Aaron Sorkin show. The result is piercing intelligence, an indulging oddity for sketch comedy, NBC and television itself.
Your Daily Blend of Entertainment News