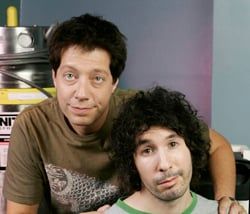 Testees - Series premiere
Starring: Steve Markle, Jeff Kassel, Joe Pingue, Kim Schraner, Kenny Hotz
Created By: Kenny Hotz
Premieres: Thursday, October 9, 2008 at 10:30 PM ET on FX
I just sat through the pilot episode of FX's new series Testees and I feel dirty. I knew by the title and the fact that the series was created by former South Park writer Kenny Hotz that this was going to be a guy show filled with lots of juvenile humor. Needless to say, my expectations weren't all that high for this new comedy series, so I'm both surprised and a bit ashamed to admit that I found myself laughing out loud numerous times throughout the episode.
Testees centers on Peter (Steve Markle) and Ron (Jeff Kassel), two loserish roommates who make money working for a company called Testico. They serve as test subjects, subjecting themselves to various drugs and other products while trying to live out semi-normal lives. Naturally, the drugs they're on often have some unexpected side effects.
In the pilot episode, Peter and Ron try out a new drug and while it's clear that Ron got the placebo, Peter starts experiencing symptoms that suggest he's pregnant. Convinced that Peter's with child, he and Ron prepare for the birth of their baby. Yeah, these guys aren't that bright but they are willing to adapt, which given their line of work is probably a good thing. Meanwhile, another Testee named Larry (Kenny Hotz) reaps the benefits of the new penis-enlargement spray he's been assigned to try out. The problem with the spray is, while it's effective in turning him into "cockzilla," getting an erection has a tendency to drain his blood supply, causing him to pass out.
The episode contains a fair amount of sexual content (visual and verbal), gross-out humor and all around nastiness. Some will consider those as reasons not to watch this show. Others will consider that description as the reason why Testees is worth adding to the DVR line-up. As I said, I didn't expect to laugh or even like this pilot in the least and there were definitely parts of the pilot that were just silly and all-out gross. Perhaps I thought my sense of humor had evolved past this sort of thing but apparently I'm not above it because I think Testees is pretty funny. Gross, crude, juvenile… but funny. I'm guessing fans of shows like It's Always Sunny in Philadelphia and South Park will agree with me.
Kelly joined CinemaBlend as a freelance TV news writer in 2006 and went on to serve as the site's TV Editor before moving over to other roles on the site. At present, she's an Assistant Managing Editor who spends much of her time brainstorming and editing feature content on the site.
Your Daily Blend of Entertainment News
Thank you for signing up to CinemaBlend. You will receive a verification email shortly.
There was a problem. Please refresh the page and try again.