The TV Show Mark-Paul Gosselaar Really Wants To Bring Back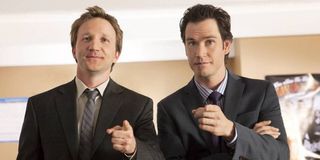 We live in a day and age when a lot of former TV shows are making their way back to television. A lot of these remakes, reboots and spinoffs have made their way to Netflix, as the streaming platform offers ample opportunity to remake a show exactly the way the actors and creator want to. Recently, we caught up with Mark-Paul Gosselaar during a Q&A at the Gasparilla Film Festival and asked the longtime TV actor if there are any of his big projects he'd love to see return via a streaming platform. His answer might surprise you...
If the cast and the showrunner are all on board to reboot the former TNT drama, Netflix should just shell out and go for it, right? OK, OK. We all know the negotiations for bringing back a TV series can be difficult if both parties aren't on the same page. Plus Franklin & Bash closed shop way back in 2014 and the actors and creative team have moved on to new projects in the time since. We also know no actual negotiations are happening at this point, but a lot of people were fans of the fun legal duo and would probably revel in the chance to see the two pals back on the small screen again.
Although fans would be excited about the return of Franklin & Bash, a revival might be good news for more than just the original fans. Mark-Paul Gosselaar also says there is a reason that Netflix would be a better home for the legal drama.
While I don't think any of us need any more Entourage in our lives, the point Mark-Paul Gosselaar made during his promotion for new movie Precious Cargo is that Franklin & Bash was a great bromance on TNT, but it could have been darker or edgier on another network. It could have been gutsier. It could have taken more chances… you get the point. Netflix offers a unique opportunity to reinvent a series—which is how programs like Longmire have become edgier after moving to the streaming service. It's a concept that may not work for all reboots--Fuller House is similar to Full House for instance—but it's pretty cool that Netflix is giving showrunners and actors way more creative freedom than most other TV networks.
While no Franklin & Bash reunion is in sight, we do know what else Netflix has coming up.
Photo courtesy of GIFF 2016.
Reality TV fan with a pinch of Disney fairy dust thrown in. Theme park junkie. If you've created a rom-com I've probably watched it.
Your Daily Blend of Entertainment News
Thank you for signing up to CinemaBlend. You will receive a verification email shortly.
There was a problem. Please refresh the page and try again.