Teenage Mary Queen Of Scots Drama In Development At The CW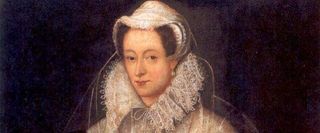 Scotland's best-known monarch may be headed for a new sort of fame on the small screen. The CW has put into development a drama based on the teen years of Mary, Queen of Scots called Reign. Described as a "fantastical re-imagining" the project would look at Mary's years in the French court and her brief time as the Queen of France as well as Scotland.
Deadline reports that the project comes from CSI: Miami's Laurie McCarthy and Outlaw's Stephanie SenGupta who will write and executive produce on the project. The two worked together on The Ghost Whisperer and became friends and then partners.
Being the CW, it's no surprise that the story will focus on the teenage Mary, although her entire life is worthy of examination and has been the subject of numerous books and movies. Mary Stuart, cousin of Queen Elizabeth I of England and daughter of the French Mary of Guise, became Scotland's reigning monarch less than a week into her life when her father died. She spent her youth in France, where she married the young Dauphin Francois at 16, became Queen of France, and was widowed by 18. She later returned to Scotland to reclaim her throne, remarried and gave birth to James Stuart, who would eventually become King of England and Scotland when Elizabeth died childless. That he took Elizabeth's throne is one of the great ironies of history, since she had Mary beheaded for allegedly trying to take the very same throne.
Reign sounds like it would be a little bit of Game of Thrones and a little bit of The Tudors mixed together, only aimed at a younger crowd. Grand period dramas are always an iffy proposition, but the timing might be right for this one, if Mary can be cast well.
Your Daily Blend of Entertainment News