Three Big Reasons To Watch The World Wars On History Tonight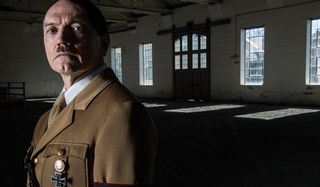 The History Channel gets a bad rap for airing alien-based programs and reality programs during a good chunk of the network's primetime schedule. However, when History opts to produce an event series, the cable station often puts together interesting and relevant content geared to numerous age groups. Tonight, it will begin airing The World Wars, a brand new six-hour event series that will take a look at the life and times of seven of the well-known political figures living and working during World War II. It should prove to be must-see TV at its finest, but if you're still skeptical about tuning in to catch the documentary, here's three big reasons why you should add The World Wars to your schedule this evening.
It Traces The Lives Of WWII's Major Figures
Hitler. Stalin. Roosevelt. Churchill. Mussolini. These men are instigators and defenders, dictators and champions of democracy, and they are names taught to every child over the age of ten in school systems around the world. They are the men that made headlines during WWII and the men that made many of the big decisions that had a major impact on the then-burgeoning modern world. Instead of focusing on the acts that changed lives during WWII, writer David C. White, Director John Ealer and the show's long list of producers opted to create a narrative following the timelines of the individuals pulling the strings during World War II.
The World Wars will follow the roots of the young men as they live through World War I, but will focus on the years between 1941 and 1944, as these prominent political figures have aged and become more powerful. It's a perspective similar to the one used in The Men Who Built America, and it should go a long way to explain how these important figures came to think and interconnect during the historical time period (unsurprisingly, The World Wars and The Men Who Built America share a production company). Along with the aforementioned names, U.S. Generals Douglas MacArthur and George Patton will also feature prominently.
Jeremy Renner Is Narrating
We think of Jeremy Renner as a fine actor and an action hero, thanks to his appearance in the Jason Bourne franchise film The Bourne Legacy. However, he might very well have a career in voice work, thanks to The World Wars. The three-part miniseries is Renner's first stab at narrating a documentary, but it's a pretty high-profile documentary, also populated by the likes of Dick Cheney, John McCain and more. We're not saying he's going to be able to compete with Morgan Freeman, but you could be seeing a new prominent narrator in the making tonight.
Not only will Renner get the chance to prove he can cobble together a second career from The World Wars, but President Barack Obama is also stepping in to take a gander at TV work for The History Channel documentary. He's already recorded an introduction for tonight's miniseries, and if you tune in at 9 p.m. on the dot, you should catch the politician offering some insightful thoughts on the men who came before him. There's something a little poetic about that.
It's Memorial Day
Most of us have spent the day lounging, barbecuing or spending time with our family outside. By evening time, most of us will be exhausted and in our pajamas, ready to catch up on some TV. Seriously, though, save the DVRed episodes of The Americans and Mad Men for another evening and tune in for History's The World Wars. It's Memorial Day, and it won't kill you to spend a couple of hours commemorating the holiday.
Many of us have not spent time this Monday thinking about the parents, grandparents and neighbors who fought for our right to wake up late on Monday and spend some safe and free time with our own families. Many of us have not attended a church service or taken a veteran out for breakfast. No one should feel admonished for not thinking about Memorial Day as it was initially conceived, but if you do have a few free hours this evening to think about the holiday, maybe you could spend it watching a documentary about the recent past and the history that has shaped the United States today. If The World Wars proves to be even half as compelling as its precurser, you shouldn't regret it.
History's The World Wars premieres tonight at 9 p.m. ET. Catch the trailer before the big premiere.
Reality TV fan with a pinch of Disney fairy dust thrown in. Theme park junkie. If you've created a rom-com I've probably watched it.
Your Daily Blend of Entertainment News
Thank you for signing up to CinemaBlend. You will receive a verification email shortly.
There was a problem. Please refresh the page and try again.