Three Secrets I Learned About Factory Creator/Star Mitch Rouse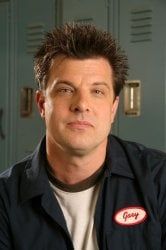 Last night I was able to attend the premiere party for Factory, Spike TV's first original comedy (you can read my review of the pilot here). The party was hosted by Wiredset, Spike's marketing agency and was held in their crazy industrial-looking office in New York's Meatpacking district. There were bloggers, Spike TV executives and an open bar—it was a good time. Also in attendance was Mitch Rouse, co-creator and star of Factory (he plays Gary). After the screening, he was kind enough to sit down and chat with me.
Even though they were plying me with free grub to put down my food hole, I felt that it was my duty to come up with the most salacious, deep, dark secrets I could wrestle from the guy. Sure, he tried to avoid my journalistic web by playing the "ooh, look at me, I'm nice and friendly" card, but I still managed to get some dirt.
Mitch Rouse slept his way to the top.
As I mentioned before, Factory is Spike's first sitcom--a pretty impressive feat that begs the question, "how did he manage that?" Obviously there's a little hanky panky going on somewhere, right? So I immediately went in for the kill. "So, who did you sleep with to get this show on the air?" Because, really, what's the point of beating around the bush? There are other people who want to talk to the guy.
Although he denied sleeping with anyone at Spike, he did admit that getting Factory on the air was a product of metaphorically being in bed with someone. "So I helped create this show called Strangers with Candy…" was how his answer started out (Mitch Rouse is kind of a big deal). Turns out that Doug Herzog, who ran Comedy Central while Strangers with Candy and Rouse's next show, Exit 57, were on the air, now runs Spike TV. The rest, as they say, is history.
Mitch Rouse can't write.
There's got to be some explanation for Factory being mostly improvised, right? Actually, I'm kind of an improv nerd, so I asked Mitch about the process of getting an episode together. The process in a nutshell, is this: Mitch and the other cast members, David Pasquesi, Michael Coleman, and Jay Leggett (who are all producers on the show) get together and have a story meeting, during which they figure out where they want the episode to go. Sometimes, they'll come up with jokes or lines that they know they want to include, but generally speaking, the dialogue is improvised.
Mitch Rouse takes jobs away from pregnant ladies.
Factory got its start by Mitch getting the rest of the cast together and making a 15-minute DVD of what he wanted the show to be. This is what he pitched to Doug Herzog and some of the footage ended up making it into the pilot episode. In this pre-pilot, Rouse's wife, actress Andrea Bendewald, played the role of his wife on the show.
She was set to reprise the role once Factory got picked up by Spike, but was replaced when she got pregnant with their daughter, Tennessee. When I asked him, "oh, so you fired your wife after she got all babyfied?", he assured me that it was her idea to pass on the show and take care of their daughter.
So maybe Mitch Rouse's secrets weren't exactly as salacious as I promised. Basically, he's a nice, hard-working guy who has been working steadily in Hollywood for a good 15 years or so. As a bonus though, I'll include a fourth thing I learned about Mitch Rouse.
Mitch Rouse thinks I'm an idiot.
So, all day yesterday, I kept on meaning to say "factory," but instead, kept on saying "warehouse." Not only did I do it in the first draft of my review of the show, but as I was thanking Rouse for talking to me, I had one more question: "What kind of warehouse is it?" He looked at me kind of confused, so I said, "what kind of warehouse do they work in? What do they make there?" Finally understanding what I was getting at, he replied, "well, uh, it's a factory…" Hence the title of the freakin' show.
For the record, the factory makes everything from umbrellas to airplane parts, so they can work whatever they need to into future storylines. Also, thanks to watching House I was able to self-diagnose my boneheadedness as Verbal Paraphasia. Because, you know, it's a medical condition.
Your Daily Blend of Entertainment News