The Top 10 TV Shows Of 2014, According To Nick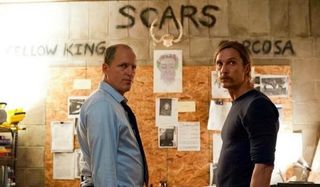 Whether you needed a good laugh, a good cry, a good scare or a good reminder that your relationships will probably never be as hectic as Hannah and Adam's, then 2014 TV was here to deliver it for you. (For anyone wanting to see just how far network comedies have fallen, it was a good year for that, too.) This month, the awesome CinemaBlend staff is putting together the lists of the shows we feel have really stood out from the pack in 2014. Everyone's list is different, so if you don't see you favorites here, be sure to check back in and take a look at our other TV best of lists that will be hitting the homepage over the next few weeks.
Without further ado, here is Nick's list of the best shows of 2014. You can also check out Jessica's picks when you're done.
10. The Missing
Truth be told, I feel like a dick for kicking off a Best Of list with a series that hasn't even come to completion yet – the final episode airs tonight in the U.K. – but Starz's mystery drama The Missing is currently enrapturing me as much as anything else did in 2014. Recent years have seen more shows using "missing and/or dead children" as the catalyst, so choosing these series wisely helps to avoid unwanted emotional drainage. James Nesbitt is superb as the emotionally unpredictable father Tony Hughes, who returns to his obsessive optimism that his son Oliver is still alive, several years after the boy first went missing while the family was on vacation. Created by Harry and Jack Williams, the series draws compelling drama out of Tony's relationship with ex-wife Emily (Frances O'Connor) and the retired-but-invigorated French detective Julien Baptiste. Never revealing all the facts at once, The Missing is solid drama any way you look at it.
9. Sons of Anarchy
The body count alone on Sons of Anarchy over the past seven seasons is enough to start a small country, but it's the corpses in this final season that mean the most. Jax spends most of his time on the warpath to avenge Tara's murder, allowing nothing (especially not common sense) to stand in his way. Featuring Marilyn Manson in quite an uncomfortable supporting role, this season was stretched a bit thin with the constantly increasing runtimes and a plotline devoted to Abel "Marblemouth" Teller. But with a couple of series-best episodes and a healthy helping of the insanely vicious SAMCRO mayhem we all know and love, this is a series-capping season that largely managed to live up to my expectations.
8. BoJack Horseman
At first glance, Netflix appeared to be shooting for the Adult Swim crowd with the raunchy animated comedy BoJack Horseman, but this surreal look at a sitcom star-turned-has-been was seriously one of the most well-balanced character studies of any medium in 2014. While the presumably sordid upcoming second season is most certainly welcome, this star-studded first season stands alone as a clockwork-peek into self-obsession, repression, substance abuse, the creative process, identity, nostalgia and a lot more, all told through the prism of Will Arnett's perma-drunk titular talking horse trying to write his autobiography with the help of a ghostwriter (Alison Brie). Plus, all the animal puns and Paul F. Tompkins that you can handle.
7. Justified
When Justified hangs up its hat and holster next year after its sixth and final season, TV will lose a truly fantastic hero/villain tandem in Raylan Givens and Boyd Crowder. There are several reasons why Season 5 could have fallen off the path to greatness – new villains, a new love interest and a fracture in Raylan and Art's relationship – but it's impossible for Justified to disappoint. Though the necessity of their presence is arguable, the Crowe clan was definitely memorable for the clownishly backwoods performance from Michael Rapaport, as well as another fine piece of early work for Mud breakout actor Jacob Lofland. Add to that the buddy criminal story between Boyd and Wynn Duffy (Jere Burns) and Raylan's increasing displeasure with his station in life, and you've got yourself another excellent season of this southern-fried neo-western.
6. Silicon Valley
Is it just me, or is the world a more dismal place to be whenever there isn't a Mike Judge project on TV or in theaters? Along with John Altschuler and Dave Krinsky, Judge aimed his satirical laser beam on the tech world with Silicon Valley to much acclaim and nasal laughter. With its first eight episodes, the HBO comedy followd programmer Richard (Thomas Middleditch) and his friends/co-workers attempting to turn their music app Pied Piper into a large-scale success, taking jabs at the ridiculously impulse-driven tech world around them. Anchored by the genius of its cast, including Kumail Nanjiani and late actor Christopher Evan Welch, Silicon Valley utilizes equal parts nerdy bro-humor and venture capital silliness. If you only ever get to see one whiteboard equation devoted entirely to jerking dicks off, make it this one.
Bonus Entry: Too Many Cooks
Not quite a TV show, the imaginatively frightening Adult Swim one-off Too Many Cooks began life in a late-night slot and almost immediately grew into an Internet phenomenon. Created by Casper Kelly, the short cleverly extends a terrible 1980s sitcom theme song soundalike to include an exceedingly large cast, a bearded maniac, the personification of words and much, much more. There's nothing else quite like it, and I can sleep better at night because of that, inside my closet, where no one can see my character name font.
5. Orphan Black
It seemed impossible for BBC America's Orphan Black to deliver a second season able to avoid the creative downfall that fuels high-concept series' sophomore slumps. Well, it happened in full, thanks to an ever-expanding look at the world of the Dyad Institute, a branched-off story for Mrs. S. (Maria Doyle Kennedy), and some insight into just how many clones are actually out there. Tatiana Maslany shines brightly in the million or so roles that she plays here, as does new cast member Michiel Huisman as Sarah's former lover. And as enjoyable as all of the danger-filled twists and turns were, this season also notably got deeper into the mechanics of identity and ownership (clone-ership), and what these things mean for the future of Clone Club. I'm still hoping for Alison and Donnie (Kristian Bruun) to get their own spinoff.
4. True Detective
A series with an initial airing hampered by social media's surgical invasiveness, True Detective is much more satisfying when no one is there to tell you what the color of that one picture frame means about a character's emotional state. In a story that flips back and forth across timelines, Matthew McConaughey and Woody Harrelson are spotless as two polar opposite detectives trying to track down a killer with a particularly showy style. The case itself isn't as complex as the themes therein, but True Detective works best as the study of Rust Cohle and Marty Hart, and the bonds that can bind together people who are otherwise unconnected. Regardless of the intent behind creator Nic Pizzolatto's dialogue-lifting, I thought the writing was largely impeccable, complemented perfectly by director Cary Fukunaga and the stark Louisiana setting. Sometimes it's nice to be bummed out for a while.
3. Olive Kitteridge
I'm pretty sure if HBO's miniseries Olive Kitteridge would have been ten episodes instead of four, it would have taken top honors by a mile. Based on Elizabeth Strout's novel, this dark and intelligently dour drama centers on many characters beyond its hard-nosed titular matriarch, but it's Frances McDormand's expertly crafted performance that brings it all together. A stubborn "my way" perfectionist, Olive brings turmoil to her ill-retained marriage to Henry (Richard Jenkins) and quasi-militant relationship with son Chris (John Gallagher Jr.), and earns her reputation as a snooty, no-nonsense woman. But by taking audiences back and forth between different points in her life, and gluing it all together with a potential suicide attempt, Olive Kitteridge truly gives audiences the rhyme and reason behind her ways, filling itself with well-rounded character studies for nearly everyone we spend time with. Even Bill Murray.
2. Transparent
Still in its infancy, Amazon Studios didn't seem likely to produce an instant classic with the Jill Soloway-created dramedy Transparent, but as the show teaches us very eloquently, you just never know. Featuring Jeffrey Tambor in a career-best performance as an aging father embracing his feminine identity, Transparent is a series about all kinds of transitions and coping mechanisms. Mort/Maura's emotional journey is center-stage here, but we're also privy to daughter Sarah's (Amy Landecker) marriage crumbling beneath her bisexuality, other daughter Ali's (Gaby Hoffmann) inability to embrace adulthood, and son Josh's (Jay Duplass) luxury-based ideals impeding his emotional maturation. Neither exploiting nor glorifying its transgender characters (or any of the other people, for that matter), Transparent can revert from hilarity to awkward misery to quaint tenderness, all in a single scene.
1. Veep
Though sadness and empathy are powerful emotions, and ones that many of the previous entries in this list have provided me, I enjoy nothing more than laughing so hard I have to pause a show as not to miss the next seven rapid-fire jokes. And that is what happens every time I sit down to watch the Armando Iannucci-created Veep. For Season 3, Julia Louis-Dreyfus' path towards presidential candidacy as the twitchy-eyed Selina Meyer was decorated with substitute campaign aide Richard (Sam Richardson), sexed-up personal trainer Ray (Christopher Meloni) and a couple of new political opponents. (The addition of Kathy Najimi as Wendy, Mike's wife, was also a stroke of genius.) The apex of this season, which also saw Jonah hilariously head out on his own for a trashy blog, was the episode "Debate," which I'd argue is the funniest episode of 2014 TV, and also features the silliest debate I've ever seen. It's the best ensemble cast on TV, the best American political comedy, and features the most professionally adept fuck-bombs you'll ever hear. Will Season 4 keep Veep in my top slot next year?
Honorable Mentions: House of Cards, Last Week Tonight with John Oliver, Bob's Burgers, Game of Thrones, Spoils of Babylon, The Comeback
Nick is a Cajun Country native, and is often asked why he doesn't sound like that's the case. His love for his wife and daughters is almost equaled by his love of gasp-for-breath laughter and gasp-for-breath horror. A lifetime spent in the vicinity of a television screen led to his current dream job, as well as his knowledge of too many TV themes and ad jingles.
Your Daily Blend of Entertainment News
Thank you for signing up to CinemaBlend. You will receive a verification email shortly.
There was a problem. Please refresh the page and try again.