Top Gear Hosts May Turn Down An Insane Amount Of Money To Return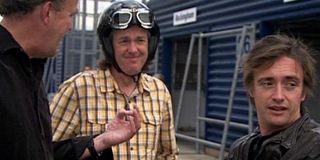 Just a few months ago, Jeremy Clarkson was fired from Top Gear, and yet still the aftermath left from his dismissal is causing problems. The two remaining Top Gear hosts, Richard Hammond and James May have stood by Clarkson's side throughout the scandal, and even refused to BBC to film any episodes without him involved. Well now, the stakes are even higher, as Hammond and May are said to be refusing a £4 million offer to return to the show.
Mirror is reporting sources claiming that the two remaining hosts want to turn down the BBC offer and instead launch a new show with the long-lost Jeremy Clarkson for Netflix. According to the Mirror, the three co-hosts have paired back with their executive producer Andy Wilman (who left Top Gear upon Clarkson's dismissal) and are "very close" to signing a big deal with Netflix. And despite that deal most likely including a big paycheck, there's apparently no amount of money that would Hammond and May to return to the BBC2 show without Clarkson.
Originally it was rumored that the BBC had offered the duo £9.1million, which was later denied by a BBC source claiming it was nearer to £4 million for a two-year deal. But regardless of the insane amount of money, sources say that the team wants to stay a team, and nothing can change that.
The three co-hosts have been in talks with many other media outlets including ITV, but the source claims that Netflix has become the favored option. Just a couple months ago after Clarkson's firing, he began looking towards the future stating that he wanted to "pick up the piece and start again" and that he knew he was "going to do another car show".
The incident which created this whole mess, for those of you who haven't been following, occurred about three months ago when Jeremy Clarkson turned himself in after punching Top Gear producer Oisin Tymon in the face. The debacle is said to have occurred after a long day of shooting after Clarkson found out there was no hot food ready for the hosts. This wasn't the first time that Clarkson had gotten in trouble with the network though; he had just recently been caught on camera using a racial slur. The man is clearly a loose cannon, but that doesn't mean he's not a driving force in the success of the Top Gear franchise.
Clarkson and team have generated such a fan base, that after his firing, BBC director general Tony Hall even started getting death threats. It's no laughing matter how dedicated Top Gear fans are, and the three co-hosts together can bring in a crazy amount of viewership. That being said, we'll see what network, Netflix or beyond, will be signing on with the trio and what their new show will entail.
Your Daily Blend of Entertainment News
Your Daily Blend of Entertainment News
Thank you for signing up to CinemaBlend. You will receive a verification email shortly.
There was a problem. Please refresh the page and try again.