Torchwood Miracle Day Review: Series Premiere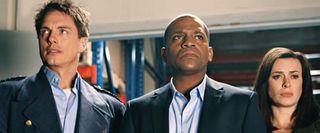 Torchwood: Miracle Day is not an American reboot of the BBC Series, which takes a more adult approach to the Doctor Who universe. It's as much a continuation of the story as Children of Earth was, only done with American production values. The biggest problem BBC has with getting their shows to hit big outside of the UK is that there just isn't the money available to compete with the conglomerate network system of the US. Now that creator Russel T Davies (Queer as Folk, Doctor Who) has returned to cable channel Stars for the 10 episode fourth season of Torchwood things are going to change. Mostly for the better, and some themes and characters in Miracle Day are bordering on brilliant.
Established fans and newcomers will be able to jump right in with Miracle Day. In fact, aside from enjoying the backstory that happens in the first few seasons with the Torchwood initiative and its members, this could be the true starting point for the series. You certainly do not need to have watched any of the previous episodes to understand what's going on, and who's who. Davies has taken the usual whipsmart ideas and rich characters he's laid the foundation for and is now ready to embark on a unique and compelling story. One that is as much about a heartwrenchingly sinister idea as it is the people affected by the event.
One day, no one on Earth dies. Every person, at the exact same instant, becomes immortal. An event that is dubbed "Miracle Day" soon turns out to be a horrific joke on mankind. While no one can die, neither do they become Superman. Everyone ages, and they can still get hurt, sick, beheaded, impaled, run over by a car, and so on. At one point in the series a man lies on a table in the hospital, burnt from a bomb blast far beyond what would have killed anyone before "Miracle Day." This is the life mankind has to look forward to. One of agony and pain. It would seem immortality comes with a price far too hefty. Even worse planetary resources will be depleted in a matter of months, and now you have the apparent makings of an attack on mankind.
Enter the Torchwood inititiave, a now defunct group of specialized individuals who were brought together by the British government to defend Earth from aliens and invasions from alternate dimensions. The only two surviving members are Gwen Cooper (Eve Myles), now a mother living remotely with her family, and Captain Jack Harkness (John Barrowman). Captain Jack is an immortal, thus giving him quite the advantage in altercations with pesky invading armies, but "Miracle Day" has changed things. Jack returns to try and protect Gwen from being caught back up in the Torchwood madness. His only goal is to keep Torchwood a secret, but the global immortality event messes up that plan.
CIA agent Rex Matheson (Mekhi Phifer) is impaled while driving, but the wound never heals. He just lives in agony as he goes on living. Eventually Rex and CIA analyst Esther Drummond (Alexa Havins) realize that the name "Torchwood" is popping up too much to be a coincidence and decide to pursue the lead. They eventually team up with Jack and Gwen and the new Torchwood team is born.
The biggest surprise coming out of Torchwood: Miracle Day is the brilliant performance by Bill Pullman as pedophile and murderer Oswald Danes. The season opens with Danes' execution, but he is the first person we learn of to gain immortality. There's a quiet force to what Pullman imbues Danes with that is eery and unsettling. You're not quite sure what this man understands about his situation, I mean how does he expect to get along with the rest of the world? But somehow he does make it through a day without being dismembered, and then another and another. While he's disconnected from the main story in the early part of the season it's clear Danes is integral to whatever may be going on.
Torchwood: Miracle Day may enjoy a far larger budget than the previous seasons, but the show retains the camp and creep factor. Sometimes, like when Gwen holds her child in one arm and blasts away with a gun with the other, you can't help but roll your eyes at the melodrama. it's something out of a straight to DVD action flick. Cheesy effects still pop up from time to time, but they're offset by genuine moments between the people. In the third episode, penned by Jane Espenson (Game of Thrones, Battlestar Galactica, Buffy), there is a brilliant post coital phone conversation that remains one of my favorite moments on TV this year.
That's what draws you in each week. Despite their flaws, the fuckups they make, the horrible decisions that can occur, the people of Torchwood are compelling and charming. Captain Jack isn't just written as the leader of Torchwood, he's a man you'd want to follow. If I can't have Captain Malcom Reynolds back on my television, I'll gladly take Jack.
Torchwood: Miracle Day premieres Friday, July 8 at 10:00 PM ET on Starz.
Your Daily Blend of Entertainment News
Staff Writer at CinemaBlend.
Your Daily Blend of Entertainment News
Thank you for signing up to CinemaBlend. You will receive a verification email shortly.
There was a problem. Please refresh the page and try again.