Toy Story That Time Forgot Review: The Toys Are Back For Their Next Great Adventure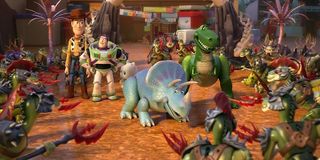 It's not unreasonable to feel apprehensive about TV specials based on popular movie franchises, as there's always the chance we'll set our expectations too high and end up disappointed. However, Pixar continues to deliver the goods with their Toy Story installments, both on the big screen and small, and that applies to the upcoming Toy Story That Time Forgot. The loosely-themed holiday special offers more of the great toy humor, charm and heart that we've come to know and love about Toy Story. And this one offers an added dose of prehistoric playtime.
Directed by Brave's Steve Purcell, Toy Story that Time Forgot takes the adorable and imaginative child Bonnie away from home and off to a post-Christmas playdate, where her backpack of beloved toys is left in the playroom of her pal Mason. It's there that Woody (Tom Hanks), Buzz Lightyear (Tim Allen), Rex (Wallace Shawn), Trixie (Kristen Schaal) and an adorable Christmas tree ornament-kitty are left to meet Mason's new "Battlesaur" toys. Our heroes soon discover that playtime is less play and more battle with these prehistorically themed (and armed) dino toys.
The half-hour special introduces a few new characters into the mix, including Reptillus Maximus, voiced by Grey's Anatomy's Kevin McKidd, who forms an immediate connection with fellow dino, Trixie. And then there's the mentioned Christmas tree ornament, Angel Kitty (Emma Hudak) who offers the occasional zen-like bit of greeting card wisdom in adorably random fashion.
Rounding out the voices are Jonathan Kydd (Ray-Gon), R.C. Cope (Mason), Don Rickles (Mr. Potato Head), Timothy Dalton (Mr. Pricklepants), and director Steve Purcell, who voices the Cleric. Though this special could've used a bit more Jessie -- I'm particularly partial to Joan Cusack's adorable cowgirl character, who was featured prominently in Toy Story of TERROR! -- Kristen Schaal's Trixie rises up as a fun and friendly central character this time around.
For kids, Toy Story that Time Forgot is a must-watch. It's colorful, fun, funny and familiar in all the ways that make every Toy Story installment great. Also, dinosaurs! Kids love dinosaurs, right? Between returners Rex and Trixie, and Mason's Battlesaurs, there's no shortage of dinosaurs here. In terms of Christmas content, it's pretty minimal, as there's a vague nod to a tree and toys, but the holiday is really just an excuse to introduce new toys (and an ornament) into the equation for the purpose of this story.
Toy Story has always succeeded in reaching out to adults as well as it does to children, reminding us of the bonds we once formed with our own toys when we were kids. Toys can be companions as much as they can be tools to allow us to explore our imaginations, and that comes through in this TV special, particularly in the way Bonnie connects with her toys, and they with her. Though the story focuses mainly on the toys' adventures in Mason's Battlesaur-filled playroom, Toy Story that Time Forgot finds its way to a wonderful message about the magical and oftentimes identity-shaping connection that exists between a child and a toy.
Delivering the humor, heart and toy-filled adventure that we've come to expect from the Toy Story franchise, Toy Story that Time Forgot is another wonderful, entertaining and playful installment to the franchise, and well worth a watch for kids and kids-at-heart.
Toy Story that Time Forgot airs Tuesday, December 2 at 8:00 p.m. ET on ABC.
Assistant Managing Editor
Kelly joined CinemaBlend as a freelance TV news writer in 2006 and went on to serve as the site's TV Editor before moving over to other roles on the site. At present, she's an Assistant Managing Editor who spends much of her time brainstorming and editing feature content on the site.