Toy Story Of TERROR! Review: Funny And Adventurous, More Toy Story Than Terror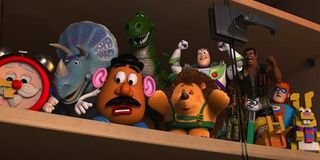 The great thing about Toy Story is, well, everything. When judging the films, the cast, the writing, the direction and the animation would be near the top of that list, in no particular order. With that said, as great as the Pixar trilogy is, there's good reason to be concerned that any post-feature animated shorts and TV specials would fail to measure up, in that straight-to-DVD watered-down sequel kind way that we've seen before. I can't speak to the quality of the 2000-released direct-to-video film Buzz Lightyear of Star Command: The Adventure Begins (opens in new tab), but having checked out ABC's Toy Story of TERROR!, which airs tonight, I'm pleased to say it's on par with the films in all categories, albeit with a much shorter installment this time around.
How scary is it?
First and foremost, if you have little kids, rest assured that the actual "terror" in Toy Story of Terror is minimal. There are some moments of suspense, but the same can be said for all three Toy Story films, and I don't think anything in Terror is creepier than Sid's collection of disfigured toys in Toy Story, so go ahead and make your own judgment call with that in mind if you're planning on sitting down to watch this with the kids tonight.
What's it about?
The story's actually pretty great. It begins with Bonnie and her mother on a road trip. The toys are in the trunk. Car trouble causes Bonnie and Mom to have to spend the night at a motel. When one toy goes missing, the rest go to find them, leading them to a "spooky"-turned-thrilling adventure. There's a villain involved, and one toy is forced to face their fears to save the day.
It's actually kind of impressive to see how much story is worked into twenty-two minutes, but I think it really helps that three films have already firmly established the relationships of their characters, not only with each other but with viewers. Little set-up is needed. This is one more adventure for Andy's Bonnie's toys, with a notable nod to the horror genre to differentiate it from anything else we've seen from the franchise.
Who's in it?
The cast is excellent, as always. Reprising their voice roles are Tom Hanks (Woody), Tim Allen (Buzz), Joan Cusack (Jessie), Timothy Dalton (Mr. Pricklepants), Don Rickles (Mr. Potato Head), Wallace Shawn (Rex) and Kristen Schaal (Trixie). And joining them are Carl Weathers, who plays Combat Carl and Combat Carl Jr. Weathers is awesome x2... or 1.33, technically. You'll also hear the voices of Saturday Night Live's Kate McKinnon, and Groundhog Day's Stephen Tobolowsky ("Bing!").
Who should watch?
Anyone who loves Toy Story. Seriously, this special is familiar territory and it measures up in its own TV special way.
I feel like now's the time to admit that I cried openly in the theater during Toy Story 2 and Toy Story 3. Yes, it's embarrassing, but something about the story just gets to me. I didn't tear up during Partysaurus Rex, the animated short that released along with Finding Nemo 3D, though I did thoroughly enjoy that. But I'm not going to lie, there was a moment in Toy Story of TERROR that triggered the waterworks, which I think is a pretty good indication that this TV special managed to capture some of the magic of the films.
Obviously, Toy Story of Terror's shortened timeframe makes it something of a junior version of its feature-film predecessors, but it has everything a Toy Story film would offer, in smaller doses, from the humor -- particularly in the meta way Mr. Pricklepants occasionally narrates their situation as it would relate to a horror movie -- to adventure, to a lesson about bravery and determination, and of course, heart. There's always plenty of that. So if you're a fan of Toy Story, Toy Story of Terror shouldn't disappoint.
Toy Story of TERROR! airs Wednesday, October 16 at 8:00 p.m. ET on ABC.
Your Daily Blend of Entertainment News
Assistant Managing Editor
Kelly joined CinemaBlend as a freelance TV news writer in 2006 and went on to serve as the site's TV Editor before moving over to other roles on the site. At present, she's an Assistant Managing Editor who spends much of her time brainstorming and editing feature content on the site.
Your Daily Blend of Entertainment News
Thank you for signing up to CinemaBlend. You will receive a verification email shortly.
There was a problem. Please refresh the page and try again.