Tricia Helfer Starring Pilot Scent Of The Missing Passed Over By TNT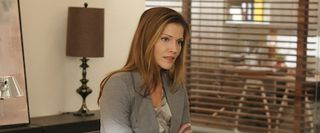 Among the projects in development for TNT was Scent of the Missing, a drama focuses on a K-9 Search and Rescue volunteer named Susannah, whose partner is a mischievous golden retriever. Had the pilot been picked up, it would have put Battlestar Galactica's Tricia Helfer in a starring role, alongside Firefly's Summer Glau. While the concept of the drama had nothing to do with sci-fi, I have no doubt that plenty of fans would have loved to see the River and Six on screen together. Alas, it's not meant to be. Not in this project, anyway.
Deadline reported tonight that TNT has decided to pass on Scent of the Missing. One of four dramas in development for the cable channel, this one goes the way of the Western pilot the network also picked up but passed on, Tin Star. As a fan of Helfer, I was hoping we'd hear good news about it, but apparently, TNT has decided not to move forward with the project.
With David E. Kelley's Monday Mornings given the green light and a Summer 2013 targeted premiere, that just leaves Frank Darabont's L.A. Noir as the final of the four in-development pilots awaiting its fate at the network. Deadline says there's "strong pickup buzz" for Darabont's gangster-focused pilot. Between Darabont's involvement and the cast, which includes The Walking Dead's Jon Bernthal and Jeffrey DeMunn, I want to say that this one's a lock, but as the decision on Scent of the Missing has proven, a strong cast doesn't guaranty a green light. So we'll have to wait and see what TNT decides.
Your Daily Blend of Entertainment News
Thank you for signing up to CinemaBlend. You will receive a verification email shortly.
There was a problem. Please refresh the page and try again.